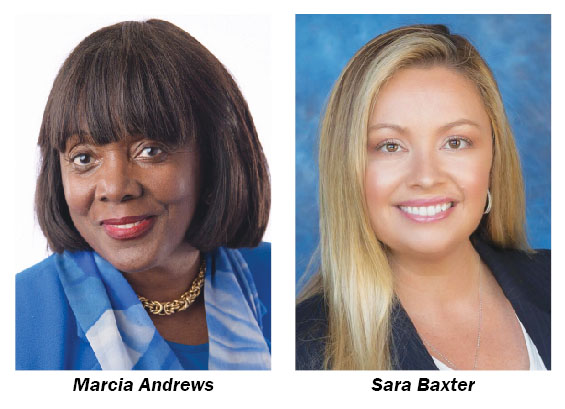 Voters granted longtime District 6 School Board Member Marcia Andrews a fourth term on the Palm Beach County School Board during the general election on Tuesday, Nov. 8.
Andrews, first elected in 2010, took 38,783 votes (56.92 percent) to defeat challenger Jennifer Showalter, who received 29,354 votes (43.08 percent).
Andrews and Showalter advanced to the general election from a five-candidate primary in August. Andrews nearly got the 50 percent needed to win outright at that time. As the returns were coming in on election night, Andrews said she was proud to see her continued support from residents.
"It made me feel so happy that they continue to believe in me," she said. "I work for the people. To see votes coming in from parents and voters all over the district, it brought a feeling of gratefulness."
Andrews, who was elected to the board after a long career with the school district, noted that she meets with Superintendent Michael Burke at least once a week and will continue to focus on the key issues that she campaigned on.
"Keeping our children safe is a big issue for me, as is mental health and academic success," she said. "Every child needs to be happy and successful as they move through their school years here in Palm Beach County. When they graduate, I want there to be a path for them, either through college or a career."
Andrews noted the concerns from some during the pandemic that the school board was not taking enough input from parents, and stressed that she will continue to work with local communities to gather input and seek out additional avenues for parental involvement.
"I will continue to listen to parents around the district," she said, adding that she regularly meets with local groups. "I will look for any new formats to meet with parents to remind them that the schools belong to them."
Andrews thanked the residents for their vote of confidence in her.
"The students mean everything to me," she said. "Every child is special in my heart and soul, and I will be available for the students to help them with their success."
In the race to replace term-limited District 6 County Commissioner Melissa McKinlay, local Realtor and business owner Sara Baxter, the Republican nominee, took 41,125 votes (52.52 percent) to defeat Democrat Michelle Oyola McGovern, who took 37,175 votes (47.48 percent).
In local state legislative races, State Sen. Lori Berman won re-election in the newly drawn District 26, which now includes Wellington. Berman, a Democrat, took 122,506 votes (54.79 percent) to defeat Republican nominee Steve Byers, who took 101,067 votes (45.21 percent).
It was a squeaker of a race for State House in District 93, which includes Wellington, where Democrat Katherine Waldron narrowly defeated Republican Dr. Saulis Banionis. Waldron took 33,824 votes (50.65 percent) to edge past Banionis, who took 32,962 votes (49.35 percent).
Other State House races were not as close. Incumbent State Rep. Rick Roth, a Republican, easily defeated Democratic challenger Terence Davis in District 94. Roth took 41,217 votes (59.50 percent) to the 28,059 votes (40.50 percent) for Davis. District 94 includes parts of Royal Palm Beach, as well as the Acreage/Loxahatchee area.
In District 88, which includes parts of Royal Palm Beach, incumbent State Rep. Jervonte Edmonds, the Democrat, far outpaced his Republican challenger Roz Stevens. Edmonds took 26,044 votes (71.17 percent) to 10,552 votes (28.83 percent) for Stevens.
While all three state constitutional amendments failed to meet the 60 percent threshold to pass, the two Palm Beach County ballot questions did pass.
The continuation of the School District of Palm Beach County's special 1 mill assessment was approved by a wide margin with 364,659 YES votes (74.02 percent) and 127,973 NO votes (25.98 percent).
Palm Beach County's affordable housing bond issue was also approved, but by a narrower margin. There were 266,284 votes for the bond (55.24 percent) and 215,769 votes against the bond (44.76 percent).