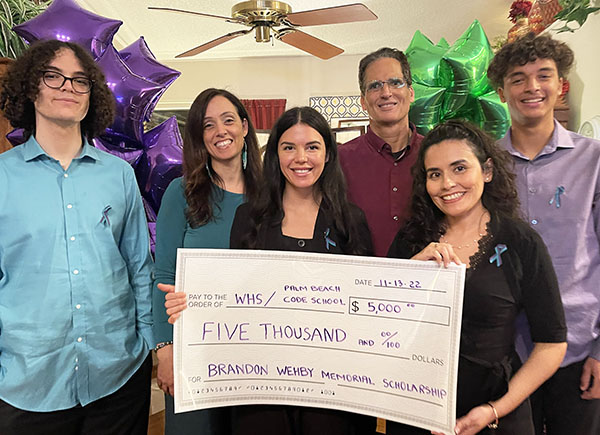 On Sunday, Nov. 13, at the home of Judith Buckland, she and William Wehby gathered with friends and family to hold a celebration of life for son Brandon Wehby, who passed away last year, just two months shy of his 32nd birthday. Last Sunday would have been his 33rd birthday.
"We honored Brandon really nicely," Buckland said.
They discussed the many programs and ideas they're working on to help keep Brandon's memory alive after he lost his battle with depression and took his own life.
Brandon had always dreamed of participating in a computer coding intensive program to become a computer programmer. To honor his memory, the family is organizing a scholarship to the Palm Beach Code School.
As Brandon was a graduate of Wellington High School, this scholarship will provide a full ride to the Palm Beach Code School for a Wellington High School graduate.
Named the Brandon Wehby Memorial Scholarship, the goal is to send at least one student a year to the Palm Beach Code School with a full scholarship.
Checks for donations can be made payable directly to Wellington High School, 2101 Greenview Shores Blvd., Wellington, FL 33414 to the attention of Gemma Ford. In the memo line, a notation should be made that the donation is for the Brandon Wehby Memorial Scholarship. All donations will receive a tax receipt by mail.
"We have the first $5,000, which will go to a student we send to the Palm Beach Code School," Buckland said. "And we'd like to raise $5,000 to go to suicide prevention awareness and the Crisis Text organization."
With more and more teens and younger people utilizing text messaging, this is a great way to reach out for help, Wehby said.
Crisis Text Online allows anyone to access free support 24/7 through text.
Reducing, and eventually removing all stigma associated with suicide, the family has shared information about how to become a volunteer crisis counselor.
Training takes about 30 hours, and then participants are ready to help give back and volunteer as a crisis counselor through the Crisis Text Line, where anyone can text "home" to 741741.
In the future, Wehby plans on becoming a crisis counselor himself.
"The stigma associated with mental health illness has to go," Buckland said. "Everyone's struggling. Everyone at some point in their life has a hard time. It's more to do with letting people know there are resources out there to get help."
To spread awareness, the family has designed a logo incorporating the number 13, to signify the date of his birth (Nov. 13, 1989) and death (Sept. 13, 2021), as well as Brandon's initials, in the suicide prevention awareness colors. They will be sharing merchandise such T-shirts and other items with this logo to benefit the scholarship.
Additionally, the family launched their Random Acts of Kindness Project last Sunday. Brandon, Buckland and Wehby said, was always doing random things to help out a friend in need. He was never one to talk about what he had done, or draw attention to his kindness.
Most of his random acts actually came as a surprise to his family, who heard about them from friends after Brandon passed away.
They request that random acts of kindness be done in Brandon's name, with the goal of spreading kindness in his name for years to come.
Acts can be small or large. They can be as simple as giving someone a hug or encouraging a friend, thanking someone, smiling at a stranger, or even buying a stranger a lottery ticket or hot drink. The family has provided more than a dozen suggested examples at www.brandonwehby.com.
The project has already gone international, Buckland said, through her friends in South Africa who have left entries of kind acts.
"The idea of having decades-worth of entries noting random acts of kindness in Brandon's name is just going to be priceless," she said.
Raising awareness, business cards with information about the project are available for anyone interested in sharing them while performing random acts of kindness.
"We're just trying to help in his honor, moving forward," Wehby said, "so that hopefully nobody has to go through this. If we can keep just one family from going through this, just one, then it will have been worth it."