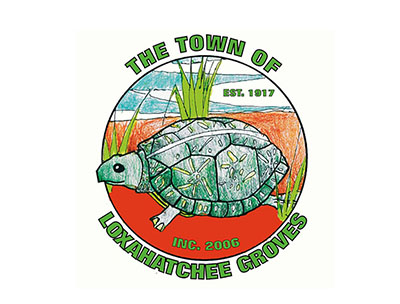 After several years of disappointing results from its lobbying efforts in Tallahassee, the Loxahatchee Groves Town Council debated the merits of hiring a lobbying firm for the upcoming legislative session at its meeting on Tuesday, Nov. 15.
While the town has been successful in getting several of its priorities through the legislative process, they have all been hit by the governor's veto pen.
"We have made it to the governor's office many times more than the amount we have paid," Town Manager Francine Ramaglia said. "Our issue has been getting out of the governor's office. Each year, there has been a specific issue. One year it was teachers' raises, another year it was storms. There was some reason each year that we did not get the money."
Since 2018, the town has used Mary McNicholas of Geoffrey B. Sluggett & Associates as its lobbyist. That agreement expired in April, and the council decided at the time not to renew the agreement. At Tuesday's meeting, Ramaglia asked for council direction on how to proceed regarding the upcoming session.
"This year, there is going to be a lot of emphasis on funding water projects," she said, adding that the town does have applications in for Resilient Florida grants.
Those grants represent about $500,000 in funding, but the date of receiving the money keeps getting pushed back.
Ramaglia noted that Loxahatchee Groves is not unique in having this problem. Many communities are in the same situation after several challenging years from a funding perspective.
Rather than just deciding whether or not to have a lobbyist this year, Ramaglia and her staff studied the issue, researching what other communities are doing. She said that the average peer communities pay about $50,000 a year for lobbying efforts, which is somewhat less than the town's retainer with its former lobbyist, Sluggett, at $60,000.
However, she noted, most communities have already put their lobbyists for the upcoming session in place, since there is a Dec. 20 deadline for local bills to be submitted to the Palm Beach County Legislative Delegation.
"We would need to work quickly if we do decide that we want to work with and retain a lobbyist," Ramaglia said.
She asked the council if they want to use a lobbyist to represent them in Tallahassee, and also the scope of services. She provided a list of several appropriation projects for consideration. Money may be available for water projects and storm hardening, and the town has several projects on its agenda that may fit, Ramaglia explained.
During public comment, resident Paul Coleman wanted to know why it is coming up now, after the council specifically decided earlier this year not to renew the lobbyist contract.
"Do we need a lobbyist, yes. But I hope we didn't just double our bill by doing what we did," he said.
Resident Virginia Standish criticized the council for its poor treatment of McNicholas.
"I don't see why you want a lobbyist, when the last lobbyist went out and got you a lot of money, and it was kind of poo-pooed away by the council," she said, referring to the council's decision last May to turn down a multi-million-dollar grant from the Palm Beach Transportation Planning Agency.
Ramaglia noted that there is about $25,000 in the budget that will not be used for other purposes that can go toward a lobbyist, if the council so chooses.
Mayor Robert Shorr said that the town needs a different approach.
"I don't want to do a whole year thing if we can avoid it," he said. "We need someone who can get us over the hump."
He added that Loxahatchee Groves now has Republican representatives in both the State House with State Rep. Rick Roth, and the State Senate with State Sen. Gayle Harrell. Before redistricting, the town's representatives were both Democrats.
"We have been absorbed in our town by two senior members in Tallahassee," Shorr said.
Councilwoman Marge Herzog favored continuing to use McNicholas, who is a local resident.
"We have a reputation for being rough on lobbyists," she said. "We have to watch what we are doing and how we are being perceived by the people we are hiring."
Vice Mayor Laura Danowski, however, was not in favor of using a lobbyist.
"Not one red cent has hit our bank accounts from Tallahassee," she said. "I am not in favor of throwing things together last minute and running up to Tallahassee. Staff has other things to focus upon. What I would like to see is the hiring of a grant writer and focus on one very specific project."
That project, Danowski said, is the rehabilitation of the town's maintenance equipment facilities building, which is estimated to cost $700,000.
"I would rather sit this one out than go up there half-baked and unorganized," she said.
Councilwoman Marianne Miles noted that the town specifically didn't budget any money for a lobbyist this year.
"We've gone up several times, and we just aren't successful with money in the pocket," she said. "I'm not in favor of spending money on a lobbyist this year."
Miles favored spending the money on local projects, such as culvert repairs.
Councilwoman Phillis Maniglia said she was disappointed in how the other council members treated McNicholas.
"We did get over the hump, and then we got vetoed by the governor," she said. "And we were not the only ones. I think they got us as far as anyone could have gotten us."
Maniglia agreed with sitting out this year, but she favored planning now to go all-in next year, specifically on the town's crucial infrastructure projects. She supported the idea of a proven grant writer.
Shorr suggested having meetings with Roth and Harrell to figure out what's reasonable to ask for.
Ramaglia said that not having a lobbyist doesn't mean not asking for money.
"We can still fill out appropriation requests and participate in Palm Beach County Days and with the League of Cities," she said.
In the end, the direction given to Ramaglia was to look into grants and grant writing. She will also speak to several lobbyists regarding pricing on a six-month contract. Further, the council members agreed to speak to Roth and Harrell about the town's efforts in Tallahassee.
When it comes to legislative priorities, the focus was put on the $700,000 maintenance equipment building, as well as the canal system rehabilitation project at $1.1 million and the stormwater system repair program at $1.5 million.
In other business:
• Qualifying for the town's municipal election next March ended at noon on Tuesday, Nov. 15. While town staff suggested re-opening the qualifying period for several days, since offices were closed last week due to Hurricane Nicole and Veterans Day, the council deadlocked on whether that was the right course of action. In the end, the existing qualifying was left unchanged. Only one seat is up in March — Seat 5, currently held by Herzog. As of the qualifying deadline, Herzog was the only person to file. Therefore, she will be re-elected without opposition.
• The council discussed its upcoming Evaluation & Appraisal Review (EAR), which is the formal update to the town's comprehensive plan, setting up a number of meetings over the next six to eight months to systematically review and update the comprehensive plan.
• The council held a workshop discussion on the complicated problems surrounding land clearing, where they discussed what they can and cannot do under existing state laws and local ordinances to protect the town's tree canopy.