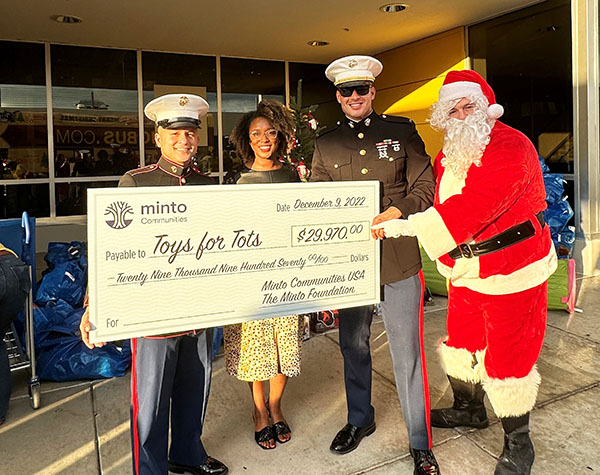 Minto Communities USA, a leading home builder and developer of master-planned communities in Florida, including Westlake, has donated $29,970 to the U.S. Marine Corps Reserve's annual Toys for Tots program. Donations were made by Minto employees and matched by the Minto Foundation.
"The Toys for Tots program is something our company and employees truly look forward to supporting each year," said Mike Belmont, president of Minto Communities USA. "We not only pride ourselves on building great communities, but also supporting the needs of the local community wherever we put a stake in the ground."
Minto previously invited employees to bring donated toys to its annual holiday party but shifted to monetary donations when holiday parties were put on hold during the pandemic.
"Minto's support means so much to us each year," said Gunnery Sgt. Robert Sempell, who coordinates the Toys for Tots program in South Florida. "We can always count on them to come through and look out for the children in our community."
Minto is a corporate partner of WPLG-TV, which organizes the Big Bus Toy Express each year to benefit Toys for Tots. On Dec. 9, the bus visited several locations collecting checks and new, unwrapped toys, doing live reports throughout the day. Minto presented its check to the U.S. Marine Corps Reserves that day.
In 2021, local Marine reserves distributed 167,199 toys throughout South Florida, supporting more than 83,000 children. This year, it hopes to collect enough toys to distribute to 100,000 children.