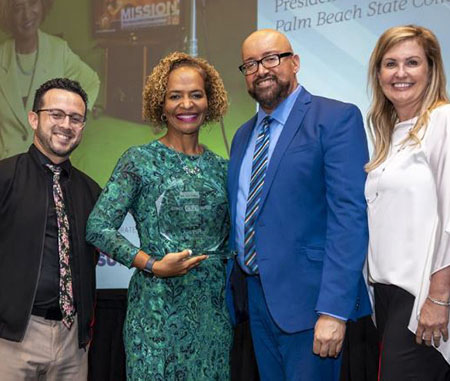 Palm Beach State College President Ava L. Parker, a Wellington resident, has received the 2022 South Florida Ultimate CEO Award from the South Florida Business Journal for her visionary business leadership.
The award was presented by Comcast Business on Nov. 17 at the Westin Fort Lauderdale Beach Resort. As a recipient, she was featured with other honorees on the cover of the journal's Nov. 18 edition.
Parker was among 15 honorees, who were recognized for their contributions to their company, the community and the overall economic fabric of South Florida.
Parker was spotlighted individually on Aug. 31 as part of the weekly "Ultimate CEO Insights" in print and online, leading up to the awards ceremony. The magazine also selected her as a 2022 Power Leader in Education.
"Thank you for this award and congratulations to all the Ultimate CEO honorees," Parker said during the ceremony. "I am delighted to accept this award on behalf of Palm Beach State College. The ultimate CEOs are our students at Palm Beach State College. They are the future."
Parker also shared the advice given to her by one of her mentors, who said, "Always challenge yourself to do more. That is how I start each day, with the thought, 'What more can I do to help each of our students achieve their goals?'"
Parker, who has served as president of Palm Beach State College since 2015 and is the first female president in the history of the institution, also said that PBSC is proud to be among the great public colleges preparing the future workforce and moving students and their families up the economic ladder.
Under Parker's leadership, the college, which will be celebrating its 90th anniversary next year, opened a fifth campus, improved student success rates, increased enrollment growth, developed a Cross-Cultural Equity Institute, was designated top status of gold in the Florida College System ranking in 2017, and increased support for the college from both public and private sources. The college has also been named five times among the top 150 community colleges in the nation, eligible to complete for the Aspen Prize for Community College Excellence.
"This program truly honors the 'best of the best' in business leadership, while also spotlighting how their charitable efforts improve our region," SFBJ President & Publisher Melanie Dickinson said. "So, we couldn't be happier about honoring these extraordinary men and women who help shape our region and advance our local economy."
Now in its seventh year, the South Florida Ultimate CEO Awards honor the breadth of leadership across South Florida's key sectors, including real estate, banking, health care, technology and education.