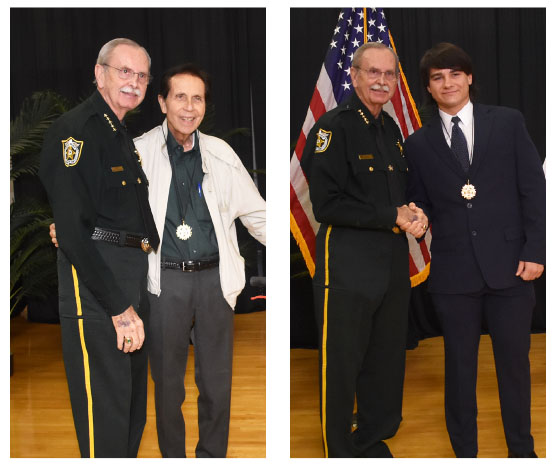 Palm Beach County Sheriff Ric Bradshaw presented awards to members of the community and to Palm Beach County Sheriff's Office employees on Wednesday, Dec. 14. The agency's annual awards ceremony was held at the PBSO Training Facility in West Palm Beach.
Members of the public were presented with Samaritan Awards, which are given by the sheriff to residents for their outstanding acts, achievements or exceptional service relative to the ideals of law enforcement service.
PBSO employees, meanwhile, were honored with several awards, such as the Unit Commendation to PBSO units for exceptionally meritorious conduct; the Life Saving Award to employees who distinguished themselves by extraordinary achievement of lifesaving actions; the Combat Action Medal to deputies who participated in hostile action with exemplary performance; the Combat Star Medal, which is equivalent to the U.S. Armed Forces Purple Heart; the Combat Cross Medal to deputies who, while performing official criminal justice duties or serving in the line of duty, distinguished themselves by extraordinary heroism; and Law Enforcement Deputy of the Year, Corrections Deputy of the Year, Detective of the Year and Non-Sworn Employee of the Year.
There were a number of local honorees among the several dozen awards that were given out, including Samaritan Awards to former Palm Beach County Commissioner Jess Santamaria and Wellington High School student John Swiderski.
Since moving to the western communities in 1974, Santamaria has made a huge difference to local residents. He first developed commercial businesses, providing much-needed services to the growing Village of Royal Palm Beach. He has since given back to his community with numerous charitable works. In 2006, he was elected to the county commission. During his eight years on the board, Santamaria donated his salary to the Homeless Coalition of Palm Beach County, and for the past 16 years, he has partnered with PBSO deputies in the western communities to regularly help families in need.
Swiderski is a student at the Fire Science Academy at Wellington High School who aspires to become a firefighter. This 17-year-old future first responder jumped into action when a day at the beach turned deadly serious last July. When 59-year-old Tim Schoener found himself caught in a rip current, he desperately tried to swim back to shore, but quickly became exhausted and yelled for help. Swiderski was nearby with his WHS football teammates. He heard the man's cries for help and acted courageously and without hesitation, swimming out to Schoener and assisting him back to shore.
Local sheriff's deputies honored with awards included Deputy Sheriff Tifani Liming, who received a Life Saving Medal, and Deputy Sheriff Alberto Rivas of District 9 in Royal Palm Beach, who was honored as Law Enforcement Deputy of the Year.
In July, Liming responded to a residential fire in Loxahatchee, where an injured elderly female was trapped inside. The victim's daughter was afraid to enter alone due to preexisting medical conditions. Liming entered the house, which was filled with smoke. She located the woman in the kitchen, dragging her away from the flames and eventually from the home to a safe location. Both Liming and the woman were transported to the hospital for treatment of smoke inhalation. Despite having inhaled a considerable amount of smoke and placing herself in a life-threatening situation, Liming's quick response saved the life of the elderly woman.
In the span of four workdays in November 2021, Rivas had himself quite a month. On day one, he conducted a traffic stop, netting a half pound of marijuana and a warrant for possession with intent to sell. The next day, Rivas observed a suspicious man at a bank ATM, this time coming away with 14 stolen debit or credit cards and a fully loaded 9mm concealed handgun. Day three was even busier, including another marijuana bust, confiscation of a fully loaded Uzi submachine gun and the apprehension of a suspect under an active felony warrant for armed burglary from 2008. Eight days later, Rivas arrested three men selling methamphetamine, fentanyl, Xanax and trazadone. Rivas made nine arrests, 48 traffic stops and completed 19 field information reports in one month alone, as well as all of his hard work, dedication and excellent attention to detail during the other 11 months.