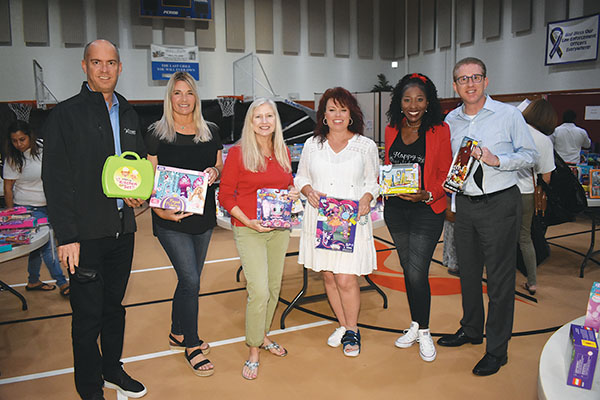 When you see the words "holiday season," they conjure up images of family, friends, food and, last but not least, gifts.
For children, those gifts are critical to their feelings of belonging. For many parents, however, being able to provide their children with gifts during the holiday season can be an ominous task, especially when there are mouths to feed and bodies to keep clothed — and needs have to come before wants.
"With inflation and the high cost of gas, families are really struggling this year," Wellington Community Services Director Paulette Edwards said. "With increases in rent and insurance, there's so much that is taken away from the wallet of the parents. There is a greater need this year more than ever to assist the Village of Wellington in the collection of toys."
For nearly a decade, Edwards said, Wellington has come together with its residents to embrace the many children who could use some holiday cheer through generous donations of toys and gift cards as part of the village's Hometown Holiday Toy Drive.
"I always say that with everything that our children are faced with today," Edwards said. "A toy is such a great way to put a smile on a child's face. It can give them hope for better days to come."
As of Wednesday, Nov. 30, approximately 200 children are registered to receive gifts this holiday season. But the village is just getting started. "We're anticipating upward of 500," Edwards said. "It increases every year. Since COVID-19, it definitely has been on the rise. Of course, with inflation and everything else that is going on, it has had a slight increase over the last couple of years."
The past several years haven't been easy for parents, particularly those with precarious finances.
"To be able to take one stressful task off their list encourages us," she said. "To be able to know that we're doing all we can to support our families that are in need."
Collections for toys began on Monday, Nov. 28, and will continue until Tuesday, Dec. 13, when they will be prepared for distribution to smiling faces with grateful eyes.
But the toy drive needs the community's help to thrive.
"We are desperately in need of additional toys," Edwards said.
But that wasn't a surprise. Wellington also hosts its Hometown Holiday Food Drive to provide meals to families in need for Thanksgiving, with collections in October and November.
"Our collection of food was very low, and the same thing is happening with toys," Edwards said. "Our bins are out all over the village, but we have not been that successful right now. We are reaching out to nonprofits for funding so that we can actually buy the toys that we know are going to be in high demand, as well as the gift cards we're going to need for teens and tweens."
Wellington schools have also been helping out by collecting toys, Edwards said, and this weekend, Palm Beach Central High School will be collecting toys during their games, Edwards noted.
The toy drive needs age-appropriate toys for infants through age 10, and gift cards for teens and tweens. The recommendation, Edwards said, is for $20 gift cards to Amazon, Target and Walmart.
"Wellington is a hometown, and we want everyone, regardless of their income and whatever struggles they're faced with, to be able to feel a part of this community," Edwards said. "There's no better way to feel a part than when others rally around you and come together to support your needs."
There are many groups and organizations that have partnered with the village on this effort, such as Wellington Interfaith, the Crowned Pearls of Wellington and the Wellington Rotary Club, as well as the Great Charity Challenge and Wellington's schools. But there's always room for more.
"The only way to sustain a healthy, thriving community is for all of its members to join together and work together in partnership, and this is one of those opportunities," Edwards said.
Businesses, organizations or individuals interested in sponsoring the Hometown Holiday Toy Drive and partnering with the village should call Wellington's Community Services Department at (561) 791-4796 to learn more.
"During the toy distribution," Edwards said, "the families are so grateful and thankful. They tell the council and volunteers, right there on the spot, how appreciative they are for this opportunity."
But to be able to provide this opportunity, and give each child on the list a holiday gift, donations of new, unwrapped toys are needed. And it's always appreciated if batteries are included.
Toys and gift cards can be dropped off at: Village Hall (12300 W. Forest Hill Blvd.), Village Park (11700 Pierson Road), the Wellington Community Center (12150 W. Forest Hill Blvd.), the Wellington Tennis Center (3100 Lyons Road) and the Lake Wellington Professional Centre (12133 Ken Adams Way).
Village residents who are having a tough year and need assistance from the toy drive can call (561) 791-4796 to register by 5 p.m. on Tuesday, Dec. 13.