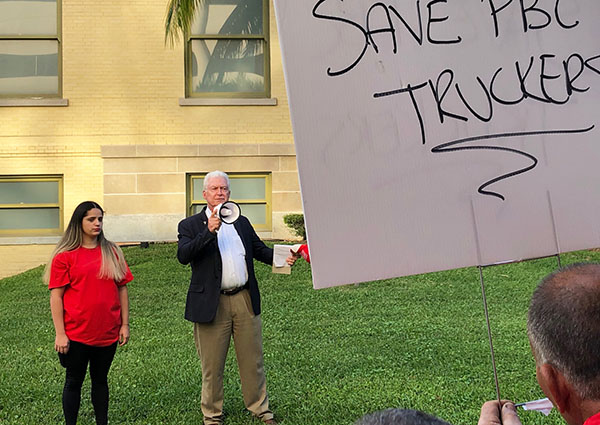 Palm Beach County commissioners got an earful at a recent meeting from big-rig truckers and others who believe their property rights in The Acreage, and their livelihoods, are being threatened by overzealous code enforcement.
Faced with packed commission chambers, and an onslaught of complaints at the Tuesday, Jan. 10 meeting, commissioners directed County Administrator Verdenia Baker to investigate the conduct and tactics of the county's Code Enforcement Division.
Despite the hollowness of many political promises made under pressure, State Rep. Rick Roth (R-District 94) said this week he believes the county will follow through.
Roth spoke to the commissioners in support of an investigation and changes to the county zoning would give more leeway to multi-acre property owners in semi-rural areas of the county.
"They're starting to investigate," he said. "We'll be providing additional information. There is no doubt in my mind that there will be significant changes to code enforcement."
Many truckers who spoke at the commission meeting called for a moratorium on enforcement and fines, which they said have run into the tens, even hundreds of thousands of dollars.
But Baker said that the code must be enforced as presently written, and County Attorney Denise Coffman told commissioners that such a moratorium was not permissible without a change to the zoning code.
Even if a majority of the seven-member commission favors altering the existing code, the changes will take months due to the need for public hearings.
Under existing county code for areas zoned agricultural-residential, such as The Acreage, residential storage/parking is allowed for one commercial vehicle — defined as registered and belonging to a resident of the property, and not exceeding 12,500 pounds and 26 feet in length. A tractor-trailer rig is often more than 60 feet long and weighs 80,000 pounds or more. Restrictions within municipalities vary.
Changes to the zoning code made in 2019 have been a bone of contention between the county and trucker advocates, such as Natalia Melian, who alleged that "commercial vehicles" — including tractor-trailer rigs — were allowed prior to the change. Many big-rig drivers moved to the area for that reason, said Melian, who owns a trucking business with her husband.
Though disappointed that the moratorium could not be obtained, Melian was optimistic. "We at least got them to say the laws were changed," she said.
Another information/discussion session will be held for truckers and other interested residents within the next few weeks, Melian said. "It will be a chance for us to come up with a list of the things we want," she explained.
One of the biggest problems is the aggressive tactics that code enforcement is using against truckers and others, Roth said. "Instead of working with property owners to solve the problem, they're making it more difficult," he said.
The reasons for the changes to the code and the aggressive enforcement are well known, Roth said, suggesting it is an effort to change all agricultural-residential zoning in the eastern half of the county to plain residential, thus allowing more developments such as Arden and Westlake.
"It has been going on for years," he said, noting that lawn maintenance businesses already have been forced from locations such as Heritage Farms.
While there have been allegations of drones and private investigators being used to surveil some multi-acre properties, Roth said he could not validate those specific charges.
"I would say that Palm Beach County Code Enforcement is using every asset available to them, including law enforcement, to put pressure on property owners," he said.
The Acreage is in an unincorporated portion of the county, loosely overseen by the Indian Trail Improvement District for the limited purposes of providing roads, drainage and parks to the semi-rural community.
There has been an influx of both truckers and luxury homebuyers in the area, ITID Vice President Betty Argue said recently. She estimated that there are at least 150 big-rig drivers now living in the district.
ITID Supervisor Elizabeth Accomando emphasized that ITID has no authority in terms of planning, zoning or code enforcement as the situation stands. However, Accomando said that can change if Acreage residents approve incorporation during a possible November referendum.
"If we incorporate, we will have full control over planning, zoning and code enforcement," said Accomando, part of the VoteLox group that is pushing the issue. "Hopefully, we could find a happy medium for everyone."