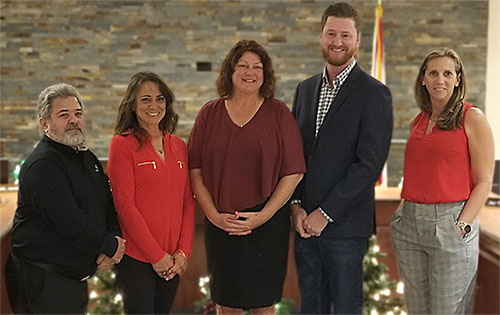 After years of wondering what the next downpour might bring, Acreage residents may finally have some peace of mind in sight.
Representatives of the lobbying firm Geoffrey B. Sluggett & Associates formally noted at the Indian Trail Improvement District Board of Supervisors meeting on Wednesday, Feb. 15 that $7.7 million has been authorized by the state to complete the J.W. Corbett Wildlife Management Area levee.
"I'm really glad it came through," ITID President Michael Johnson said this week. "It's a safety issue… [and] it's something our residents deserve."
The Corbett area is located adjacent to the northwest corner of ITID. In 2012, when Tropical Storm Isaac dumped 19 inches of rain over The Acreage, water held in Corbett broke through the existing levee and added to flooding problems in The Acreage.
In 2013, the legislature and then-Gov. Rick Scott allocated $4 million for the first half of an improved Corbett levee. The money was used to protect valuable farmland to the west, but the promised $4 million to protect Acreage homes did not materialize despite repeated requests.
Finally, in 2021, ITID hired Sluggett to work with the district, Palm Beach County, the South Florida Water Management District and the Florida Fish & Wildlife Conservation Commission, which manages Corbett, to get the necessary funding. The strategy was for several entities to apply for the money through the Resilient Florida Fund. The process was completed when Gov. Ron DeSantis signed off on the project.
In the end, the county got the official nod, although the SFWMD is expected to manage the project.
Sluggett's Mary McNicholas credited Johnson's efforts on the Palm Beach County Water Resources Task Force, ITID Executive Director Burgess Hanson and his staff, ITID Vice President Betty Argue and State Rep. Rick Roth (R-District 94) for making the funding happen.
"Everything just fell into place," Johnson said.
The group had to ask for almost $8 million due to increases in construction costs since 2014.
Another $397,000 was allocated directly to ITID for work on the M-0 Outfall Canal, McNicholas noted. Added to $135,000 in previous grant money, and the district has some $532,000 for the project, which will move water out of the ITID system and into the L-8 Canal when necessary, Hanson said.
Adding a control structure would raise the price tag to between $800,000 and $1 million. McNicholas said that the Sluggett team will be lobbying the legislature for money for the project during the upcoming legislative session beginning April 10.
In other business:
• Supervisor Elizabeth Accomando said that some residents of Santa Rosa Groves (Unit 20) are feeling "anxious" about what they perceive as a lack of action regarding planned improvements to the area's roads and canals after being accepted for activation into the district.
Actually, Hanson said, the five-year, $3 million project is "tracking where it should be."
Created in the 1970s, Santa Rosa Groves is made up of 99 lots ranging from five acres to 20 acres and has a long history of flooding problems. Its roads and swales have deteriorated, and the canals are overgrown.
In September, a 10-year, $3 million loan was secured to install pumps; clear canals; build up or mill roads, particularly Carol Street; install signage; and perhaps add some type of traffic calming. The improvements will allow curbside garbage pickup, mail and package delivery, and help prevent flooding during heavy rain events.
ITID Assistant Executive Director Rob Robinson said that once the project gets underway this spring, "It will be full speed ahead. We're going to be there on task continuously until the job is done."
Accomando, who lives Santa Rosa Groves, said she understands the reality, but that ITID staff is not doing an adequate job communicating with residents. She suggested more frequent and up-to-date information on the web site would be helpful, including a timeline that would allow residents to visualize the progress.
• GL Homes Vice President Larry Portnoy told the board that while development of the company's 4,871-acre Indian Trails Grove property is not imminent "within the next year or two," if a land swap can't be worked out with the county, the construction of 3,897 housing units, 300,000 square feet of commercial space and 50,000 square feet of office space for the site could begin soon thereafter.
The comment came as part of a land swap presentation by GL representatives very similar to one shared last summer with supervisors, who strongly supported it.
The land swap, which requires approval by county commissioners, would move about one-third of the development out of Indian Trails Grove and onto what is known as the Hyder West property that GL Homes owns off State Road 7 west of Delray Beach in the county's Agricultural Reserve.
Land dedicated for agricultural and water resources would be increased by 980 acres, and publicly dedicated land would increase from 640 acres to more than 1,600 acres. ITID also would get limited control over a 740-acre water storage area, including three pump stations that GL Homes would build.
Last August, the plan was scheduled to go before the county commissioners, but GL asked for a postponement. The plan is expected to go back before commissioners this spring.
Argue said that at times opponents of development get caught up in their passion for preserving a rural or semi-rural Florida lifestyle and simply say, "I don't like this. I don't want that. Unfortunately, this development has been approved [by the county]. I like the [swap] proposal."
If nothing else, the reduction in traffic on ITID's already stressed roads would be "huge," she said.
"Hopefully [the swap] goes through," Hanson said. "It certainly would lessen the impact on the community."