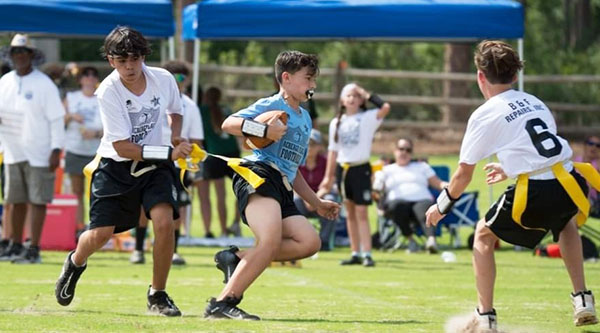 Saturday, March 4 was opening day for the 351 players and 30 teams that are competing this year in the Acreage Flag Football League.
The league is open to girls and boys. This year, there are five age divisions: Pee Wee (ages 4-5), Freshman (ages 6-7), JV (ages 8-10), Varsity (ages 11-13) and Pro (ages 14-19, as long as players are still attending high school).
This year, the games are being played on the recently refurbished fields at Acreage Community Park, courtesy of field improvements undertaken by the Indian Trail Improvement District.
The regular season games will be played every Saturday at Acreage Community Park and play will continue until Saturday, April 29. Then, the division playoffs will start during the week of May 1.
According to Acreage Flag Football League Vice President Sharon Musgrave, all the players, coaches and parents had a positive experience in pursuit of first downs and touchdowns.
"Opening day was a huge success," Musgrave said. "We had DJ Mark Goolsby announce all the teams throughout the day. Christ Fellowship was also out here for the day and gave away free food and drinks. We have heard nothing but good things from parents on our Facebook page."
Most of the teams in the league are named after popular college football and NFL teams, but some teams were more creative and came up with different team names, such as the Rhinos.
Learn more about the league at www.acreageflagfootball.com.