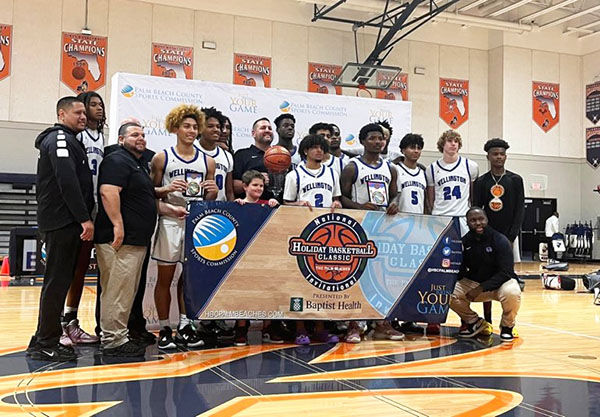 While the Wellington High School boys varsity basketball season came to an unexpected early conclusion with a 58-54 loss to Oak Ridge High School in the Class 7A, Region 2 quarterfinals on Feb. 10, it was still a season to be celebrated.
"We had a great season, winning 20 games with a challenging schedule," Wellington High School's head boys varsity basketball coach Matt Colin said. "This was our 10th year in a row of having 20 wins or more in a season. My assistants call it the decade of dominance."
This year's group of Wolverine cagers got off to a great start when the season started in late November. After their first 10 games, they were 9-1. Their only loss was at home on Dec. 6 when eventual Class 6A state champion William T. Dwyer High School came to play. In that game, the visiting Panthers prevailed by three, 84-81.
After the loss to Dwyer, and for the balance of the regular season, Wellington had a series of short winning streaks that were interrupted by a close 71-70 defeat at the hands of South Dade High School on Dec. 23, a close 66-62 loss to Suncoast High School on Jan. 11 and a tough 62-47 loss to Lake Worth High School on Jan. 27.
During the holiday break, Wellington played well in two tournaments — the Rising Stars Classic and the Palm Beach County Sports Commission's Holiday Classic — which meant playing six games in 10 days. In those six games, the Wolverines were 5-1. The biggest win was the 68-66 victory against the Jackson-Reed Tigers from Washington, D.C., on Dec. 30. That win was in the championship game of the Holiday Classic, which Wellington won for the first time in school history.
Following the late January regular-season loss to Lake Worth, Wellington didn't dwell on the negative. Instead, the Wolverines rebounded by closing out the regular season with a win against Olympic Heights High School and by picking up a pair of victories in the Class 7A, District 8 postseason tournament. That set up a rematch of its earlier regular season game, two weeks prior, with Lake Worth.
In that Class 7A, District 8 tournament final on Feb. 10, Wellington came out strong and built a big halftime lead, which it was unable to maintain throughout the second half. Lake Worth mounted a comeback and ended up winning by two, 73-71.
Despite the loss, Wellington's strong regular season record and strength of schedule earned the Wolverines the No. 6 seed in Region 2 of the FHSAA's Class 7A state tournament. As the lower seed, Wellington took its 20-5 record north to Oak Ridge High School in Orlando to play the Pioneers, the No. 3 seed. It was another close game for Wellington, but the Wolverines lost 58-54, which concluded their season with a 20-6 record.
"Even though our last two games didn't go the way we would've liked, I'm proud of this group for overcoming adversity and still competing at a high level," Colin said.
Late in the regular season, injuries became an issue for the Wolverines. "We lost our point guard a couple of weeks before the end of the season with an ACL tear, and one of our top reserves hurt his foot in the district tournament semifinal game and was out for the rest of the season," Colin said. "In the district championship game, our starting forward rolled his ankle and was very limited for the rest of the game and in the regional quarterfinal against Oak Ridge."
With all those injuries, Wellington resorted to the next-man-up mentality.
"We had other guys step up and play very well," Colin said. "Junior Elyjah Freeman went into the starting role and emerged as a big bright spot for us. In the district tournament final game against Lake Worth, he had 15 points and 15 rebounds. In the Oak Ridge game, he had 12 points and 12 rebounds with four assists and four blocks. We're looking forward to his development over the spring and summer, going into next year. Sophomore Jeremy Tovar came off the bench in the Lake Worth game to score 16 points, including two end-of-quarter buzzer beaters. Sophomore Dakota Izard led us in scoring in the Oak Ridge game at 14 on four-of-five shooting from three-point range."
Looking ahead, Colin is optimistic about his team's chances of another season with at least 20 wins and a deep post-season run.
"We are looking forward to next season as we return four juniors and four sophomores to the team, including starting junior Reggie Reinhardt, who averaged 13 points per game and shot 37 percent from three-point range, and our top reserve, 6-foot-4 sophomore Sean Standifer, who also made 37 percent of his three-pointers," Colin said.