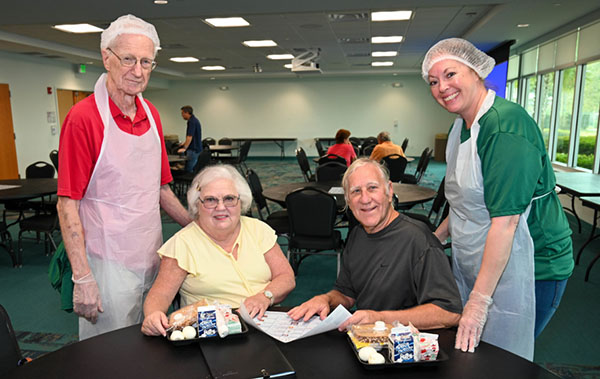 In January, the Village of Wellington opened the doors to its new congregate meal site at the Wellington Community Center. With a nutritious and delicious breakfast and lunch available for senior citizens Monday through Friday, with the exception of federal holidays, the initiative has already shown success.
"It has been going really well," Cultural Programs and Facilities Manager Jenifer Brito said. "We have had really great numbers. We're obviously looking to expand it and get even more. I think that since it is such a new program, it does take some time, but we have seen significant progression."
Breakfast takes place from 8:30 to 9:30 a.m., and eight to 20 seniors have been gathering for breakfast daily. Lunch is served from noon to 1 p.m., and about 40 seniors have been attending.
Other sites, Brito said, have fewer seniors attending, and she's encouraged with how many Wellington residents have been taking advantage of the free program so far, with room for many more.
"In offering the program, I think it's most beneficial because it allows us to also offer more programs and activities for our senior population," Brito said. "They can come to breakfast, then they can join us for a lunch-and-learn topic or go to yoga, and then have lunch. For us, that's very important that they're able to come and spend the whole day with us and have fun, socialize, meet new friends and also have a nutritious meal."
The program also helps seniors who have had to make the difficult choice between purchasing healthy, nutritious food and vital medicine.
"This helps them balance that more, so they're able to get everything they need," Brito said.
Breakfast tends to be continental, while lunch varies. March lunches include barbecue chicken and beef riblet, vegetables, fruit, salads, casseroles and more.
The primary component of the program is that the seniors come, socialize, have lunch and meet others.
"There are so many people we have seen, in the short amount of time that we've been doing this, who have acquired new friendships," Brito said. "The social aspect, and the nutritious aspect, are so important."
Registration can be done prior to mealtime, or at the senior's convenience.
The congregate meal site is a partnership program between the Palm Beach County Division of Senior Services and Veteran Services, through a federal grant. To be eligible, seniors must meet one of the following criteria: the individual must be at least 60 years of age; the individual is under 60 years of age and is the spouse of a person who eats at the meal site and is at least 60 years of age; the individual is under 60 years of age, is disabled, and lives in the home of a person who is at least 60 years of age and is accompanied to the meal site by the older individual; the individual resides in a housing facility with primarily people age 60-plus where congregate meals are served; or the individual volunteers at the congregate meal site during mealtime.
Interested seniors can register for the congregate meal site by visiting the Wellington Community Center, and can learn more about the program by calling (561) 753-2484.
The Area Agency on Aging is available to assist seniors who are homebound and unable to come to the Wellington Community Center. For delivered meals, call (561) 684-5885.
The Village of Wellington has also created its Senior Transportation and Rides (STAR) program that offers safe and affordable door-to-door transportation for qualifying Wellington seniors, with funding provided by the Village of Wellington and the U.S. Department of Housing & Urban Development.
Seniors must apply for the STAR program, and meet the following eligibility requirements: be at least 62 years of age, be a U.S. citizen or legal foreign resident, reside in Wellington and provide a copy of a valid photo ID.
There are also going to be monthly special events for senior citizens at the Wellington Community Center starting at 11:30 a.m. On March 14, there will be a St. Patrick's Day Party; the Senior Prom is on April 2; a Cinco de Mayo party will be on May 2; a Sock Hop will be on June 13; Red, White & You will take place on July 11; Senior Citizen's Day will take place on Aug. 21; and a Luau Party will take place on Sept. 28. Seniors must register for these special events.
For more information about senior programs in the Village of Wellington, call (561) 753-2484 or visit www.wellingtonfl.gov/seniors.