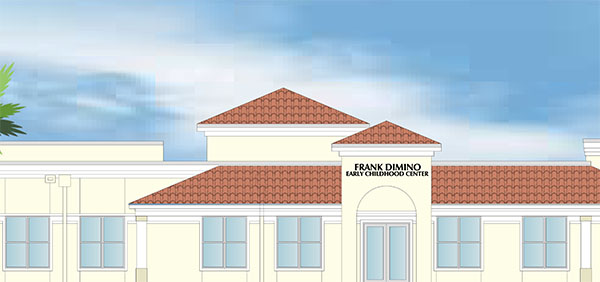 The King's Academy recently announced a significant investment from the Frank DiMino Foundation that will allow for the construction of the Frank DiMino Early Childhood Center on its campus at the corner of Belvedere Road and Sansburys Way.
Darren Bardell, executive director of the foundation, recently presented a check to TKA, which will allow for the construction to begin in the coming months.
"Our board members recognized from the start of our relationship with TKA that we shared a common goal: to support and develop the next generation of civic and business leaders," Bardell said. "We are honored to have the opportunity to continue to partner with TKA through the building of the Early Childhood Center."
The 10,000-square-foot Frank DiMino Early Childhood Center will serve nearly 200 students with an enriching and developmentally appropriate program and curriculum that will prepare two-, three- and four-year-olds for elementary school and beyond.
"I am so grateful for the tremendous generosity Frank DiMino and the Frank DiMino Foundation has shown our school," TKA's President Randal Martin said. "The Frank DiMino Early Childhood Center will focus on the total development of a child's social, spiritual, emotional, cognitive and physical needs in order to build a solid and broad foundation for lifelong learning and well-being in a safe, nurturing environment."
Frank DiMino is no stranger to TKA. His name is displayed on many local and national facilities in honor of his generosity. He has been a supporter of the school through the endowment of the school's nationally recognized DiMino Engineering & Technology Program, support for the school's championship competitive cheerleading team, naming the Frank DiMino Science Center and the Frank DiMino Student Union.
DiMino is a South Florida resident and philanthropist. He was born in Grotte, Sicily. His family immigrated to the United States in 1935, when he was a young boy, and eventually settled in Rochester, New York. At the height of his entrepreneurial activity, DiMino owned and operated a wide variety of businesses.