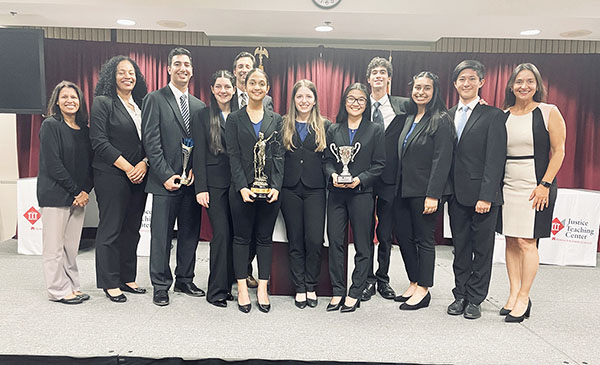 American Heritage Schools recently announced that its Palm Beach Campus Mock Trial Team won the state championship of the Florida High School Mock Trial Competition for the second year in a row. In addition to earning the highest award, the team also earned the Outstanding Professionalism and Ethics Award in legal advocacy, voted by coaches and students. Jonah Samara, team captain and a senior at American Heritage, earned the Outstanding Witness Award.
Led by attorney coaches Kelly Harris, Adam McMichael, Rinku Tribuiani and Ani Porter, American Heritage pre-law students and team successfully competed in every round, dominating their opponents as prosecution and defense. Team members from American Heritage included Daniel Bednar (senior), Lindsay Brauner (junior), Pooja Gudoor (junior), Maia Merkel-Leavitt (sophomore), Bryan Li (junior), Sophia Reynoso (sophomore), Jonah Samara (senior) and Anna Shullman (junior). The team will represent Florida at nationals in Little Rock, Arkansas, May 18-21.
The Florida High School Mock Trial Program was designed in 1991 by Annette Boyd Pitts and former Florida Bar Executive Director Marshall Cassedy. Hundreds of student participants have graduated, attended law school and become members of the Florida Bar or other state bars. In the program, students learn critical thinking skills, legal reasoning, analysis and professionalism, in addition to the structure and function of the courts and the legal process.
"We're thrilled that our mock trial team has been undefeated in Palm Beach County for nine years in a row, and we have been named the state champions for the last two years," said attorney Ani Porter, pre-law program director at the Palm Beach campus. "Our success is not limited to Florida, as we are also the 2022 champions of the Yale Bulldog Competition, and back-to-back 2021 and 2022 Providence Cup Champions in Denver. We attribute our success to our students' commitment to preparation, determination and teamwork. As coaches, we emphasize the importance of an ethical, productive and inclusive environment to model the students' future successes in the real world. We are very proud of their accomplishments."
The American Heritage pre-law program is a four-year honors program taught exclusively by practicing attorneys and judges. Each year, students take unique law-school-level courses that no other high school offers, such as Trial Advocacy, Constitutional Law, Homicide Law and Criminal Law.
The program culminates in a senior year internship where students experience the practice of law in real life. Seniors leave campus a few times per week to rotate through different law firms, agencies, offices and courtrooms throughout South Florida. They also visit judges in the circuit court, the sheriff's office, the state attorney's office, the public defender's office and the United States attorney's office. The connections that the seniors make with practicing judges and attorneys are invaluable and often result in future law school clerkships and internships.
To learn more about the pre-law program, visit www.ahschool.com/pre-professional-program/pre-law.