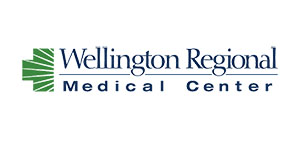 Wellington Regional Medical Center physicians, leaders and clinicians recently gathered to recognize the Center for Wound Care and Hyperbaric Medicine, a recipient of the Center of Distinction Award by Healogics, the nation's largest provider of advanced wound care services. The center achieved outstanding clinical outcomes for 12 consecutive months, including a patient satisfaction rate higher than 92 percent.
"I am thrilled to announce that we have once again been recognized as a Wound Care Center of Excellence for the eighth consecutive year," said Pam Tahan, chief executive officer at WRMC. "This prestigious designation reflects our unwavering commitment to providing exceptional care to patients with complex wounds. I am immensely proud of our dedicated team of healthcare professionals whose expertise, compassion and tireless efforts have earned us this distinction. It is a testament to our unwavering commitment to excellence, and we will continue to strive for the highest standards of wound care for our patients."
The Center for Wound Care and Hyperbaric Medicine is a member of the Healogics network of more than 600 wound care centers and offers highly specialized wound care to patients suffering from diabetic foot ulcers, pressure ulcers, infections and other chronic wounds that have not healed in a reasonable amount of time.
Advanced wound care modalities include negative pressure wound therapy, total contact casting, bio-engineered tissues, biosynthetic dressings and growth factor therapies. The center also offers hyperbaric oxygen therapy, which works by surrounding the patient with 100 percent oxygen to help healing.
Wellington Regional Medical Center is a 235-bed acute care hospital that has been treating residents in Wellington and the surrounding areas for more than 30 years. Headquartered in Jacksonville, Healogics is the nation's wound healing expert. Last year, more than 300,000 patients received advanced wound care through its network.