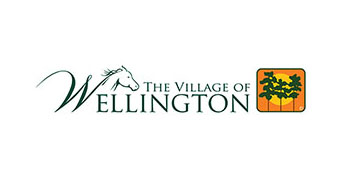 A golf course parcel closed for more than 20 years that has been the controversial home of things like adult soccer games, freelance food and alcohol vendors nestled beside Wellington's Palm Beach Polo community has gotten its first approval toward becoming a new residential neighborhood.
A village board has given its go-ahead to a plan to put 27 high-end homes on the land, over objections from some neighbors that Wellington is too quick to give up green and open spaces.
Wellington's Planning, Zoning & Adjustment Board voted 4-1 on Wednesday, April 19 to recommend that the Wellington Village Council approve the plan known as Farrell West.
It would happen on 23 acres southwest of Forest Hill Blvd. and Polo Club Road, if the council agrees in meetings expected in May and June.
Bridgehampton, N.Y.-based Farrell Building Co. has been building luxury homes for nearly three decades and has a strong Florida presence, including an office in West Palm Beach, said Michael Sanchez, representing the builder.
The proposed conversion of 23 acres to homes represents less than two percent of the recreational land in the area's comprehensive plan, he said.
"This existing recreation designation on this parcel is really a leftover of this site 20 years ago," Sanchez said. "It hasn't been used for recreation for more than 20 years, legally."
Developers heard "rumblings" of concerns within the community and met with about 60 to 70 local residents on April 3, he said.
The company withdrew applications for a Farrell East proposal on April 17 because of questions raised about a possible loss of amenities, including tennis, he said. The east project, which would have put 14 homes on more than nine acres, will not happen, Sanchez said.
So that leaves just Farrell West.
Andrew Carduner, president of the Palm Beach Polo and Country Club Property Owners' Association, said his group's board of directors is "not opposed to that effort at all," referring to the Farrell West plan.
He noted that Palm Beach Polo encompasses 1,253 homes, 3,000 residents and 3,000 opinions, so on any given issue there may be disagreement and "vitriol."
Several residents said they opposed losing open, undeveloped space and views near them, with some wondering if this sets a harmful precedent.
A number asked about flooding and water-control plans, and raised the issue of additional traffic, including construction equipment to build the new homes.
"Why do we have to keep developing?" asked Robert Pozzo, who said he has been a Polo Club resident since 1993. "I'm opposed to it, and I hope you people feel the same way I do."
"Do the right thing" and turn down the plan, urged Susan Labriola.
Susanne Hanson said that there has not been a survey of what residents want.
"We don't know what the majority of Palm Beach Polo believe because they have not been provided any information about this," she said. "We have been left in the dark."
The privately owned property has been "a source for continuous resident and code complaints" and used over time for activities from polo to "adult soccer games that also caused issues," according to the village staff report.
Palm Beach Polo hosts a variety of housing types, from one-bedroom efficiencies to mansions, and the 27 proposed lots are comparable in size to those found in other neighborhoods within Palm Beach Polo. The prospective placement of single-family homes on the site of just under 23 acres comes out to 1.17 dwelling units per acre.
The plan would shift permission to build homes from another tract in Palm Beach Polo to the site, and the overall area would retain abundant recreational space to comply with planning goals, village staff members said.
The staff report recommended approval.
The plan's aspirations rest on completion of a land sale for the Farrell West site — a process that is still ongoing.
Attorney Neil Schiller, representing Farrell, said the proposal represents a significant upgrade by putting homes on a property that is not improved by any features, such as walking trails or benches, and has hosted non-approved uses like adult soccer games.
"There were a lot of code issues at that time, so bad that they had illegal concessions going on," he said. "People were urinating in the bushes. It was really a bad scene. We think with this project, obviously, all of that goes away, and it's replaced by multi-million-dollar homes that can contribute to the tax base."
PZA Board Member Maureen Martinez asked how ironclad Farrell's pledges are to put three levels of trees and other landscaping between its homes and neighbors to its south. Many of the neighbors live in what are sometimes called golf cottages.
"I understand the landscape buffers are larger and more varied than required, but how fluid are those plans?" she asked. "In other words, is Farrell here making a commitment to be firm with that additional landscape buffer?"
Sanchez said that he is. "Absolutely, unequivocally we will provide the landscape buffers that I indicated today," he said.
PZA Vice Chair John Bowers asked if Farrell West is still economically viable after the demise of the eastern plan, and the company representatives said that it is.
The necessary motions to approve the Farrell West project passed 4-1 with Board Member Jeffrey Robbert dissenting.