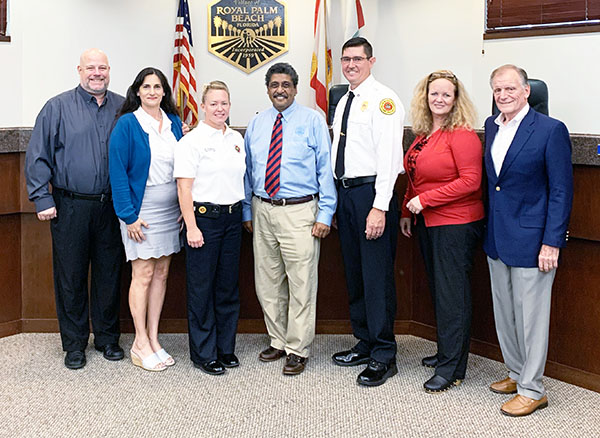 Years of planning, design, applications and negotiation culminated at the Royal Palm Beach Village Council meeting on Thursday, April 20, when the council approved the last layers of requests needed for developers to officially break ground on the Tuttle Royale project, located on the south side of Southern Blvd., approximately 0.27 miles west of State Road 7.
"I've got a two-hour speech ready after nine years," said developer Brian Tuttle, who provided a brief history of the evolution of the site plans during that time. "Through all this, you guys have worked with us. You helped us to rewrite the code. You believed the dream."
He thanked Village Manager Ray Liggins, Village Engineer Chris Marsh and Planning & Zoning Director Bradford O'Brien, along with everyone else on the village's staff.
"We didn't always agree, but we did agree to keep working on it," Tuttle said. "The expedited process worked out very well for us. We're going get this built, and we feel confident about it."
Tuttle Royale will consist of 12 main buildings and three outparcels. This will house 401 residential units, along with retail, a hotel, restaurants, entertainment space and parking garages.
Lenzy Jean-Louis of Urban Design Studios provided details on each building, along with renditions of the façades and landscaping.
"Just to set the stage, we are trying to create this large, sustainable mixed-use district. Not only as a vehicle for economic growth, but to create this community aspect, where people can interact, whether it be work or entertainment," he said.
Buildings 1 and 2 are each five stories tall with a storefront-style façade. There will be 98 residential units in addition to the retail space on the first floor.
Building 3 is primarily intended for entertainment use and will contain a comedy club on the first floor, a bowling alley on the second and a movie theater on the top floor. The Improv, previously located in West Palm Beach, shut down and will move to the new location in Royal Palm Beach. When asked for additional details, Tuttle was ready with answers.
"From what I understand, the guys who started it were ex-comics. So, they knew everyone in the industry. Once you get to know the comics, you get them in your schedule, they start coming," Tuttle said.
There will also be local and amateur talent booked in the club. "[The Improv] will have to adjust their schedule to meet village criteria. They understand when the bars close, they close," Tuttle said.
The bowling alley will have approximately 30 lanes, a restaurant and bar in the front and automatic scoring. Councilman Richard Valuntas commented on how the closest bowling facility is in Greenacres, and it will be great to have one locally.
In reference to the six-to-eight-screen movie theater, Tuttle is currently in negotiations with a few different options. "It will be an IPIC, Landmark or Apple Cinemas movie theater. They are all higher end, best-in-class. My first choice is IPIC. They would all serve food and alcohol, but not be a restaurant," Tuttle said.
Building 4 is six stories of primarily parking garage space, with retail and a day care center on the first floor. Building 5 is a mix of 47 residential units, retail shops and parking garage in five total levels. There are 58 residential units in the five-story Building 6, with retail on the first floor.
The largest structure is Building 7, which is designed to be a hotel with up to 250 rooms with retail on the ground floor. AC Hotels is a Marriott brand.
"Of the 250 rooms, 125 will be quick stay and 100 or so extended stay," Tuttle said. "The top floor is a pool overlooking the park. Bar and light service food will be there — we don't want to over restaurant. There will be a banquet area."
Tuttle explained it would be an ideal location for conferences or conventions.
Building 8 has first floor retail, and the other six stories are designated for a parking garage. Building 9 is smaller, only two stories, with a fitness center and a grocery store planned. The grocery store will likely be a Fresh Market, and Tuttle is in negotiations with LA Fitness.
Building 10 is five floors, with retail on the ground floor and the other levels designated for 100 residential units. Building 11 is another parking garage with retail on the lowest level and will be six stories tall. Building 12 is four stories of retail and office space.
All three outparcel buildings are single-story structures meant for retail and restaurants.
When looking at the village requirements overall, the site plan meets or exceeds the obligations. There will be more than the required parking spaces, and 23 percent of the site is open space, instead of the required 20 percent. Twenty bike racks will be dispersed throughout the site as well. The Art in Public Places requirement will have $250,000 to work with, since the project surpasses $25 million in construction costs.
"Certainly, this is a milestone, and it has been a number of years, but I think everybody has worked together on both sides of the equation here," Mayor Fred Pinto said. "Congratulations. Keep up the momentum. We are all very excited looking at the outcomes to be."
Tuttle expects the project to take about two years to complete once construction begins.
In other business:
• The council had the opportunity to meet new Palm Beach County Fire-Rescue District Chief Amanda Vomero, who will be taking over for Phillip Olavarria, who was recently promoted to division chief of emergency management.
"I'm very excited to have been given the opportunity to serve your community. As you know, there are nine stations at Battalion 2, and I look forward to working with each and every one of you," Vomero said. "We can get together to best serve the community."
• A new sculpture is set to make its new home at 11925 and 11931 Southern Blvd., after receiving full support from the council.
"The artwork is entitled 'Ring Canopy' and measures 13 feet high, 6 feet wide and 6 feet deep," Public Art Professional Mario Lopez Pisani said.
The bright white powdered gloss-coat aluminum sculpture "demonstrates the intricate and elegant arrangement of rings and beams of the sculpture that act as an abstract rendition of the natural environment."
The artist, Lucy Keshavarz, has several public art projects on display in Florida, with this piece currently in Clearwater as a temporary exhibition. Royal Palm Beach will be its permanent home once installed. "I think it's attractive," Pinto said. "So far, all of the things we've been looking at have been really nice."
• Sunset Isles, located off Fox Trail Road North, is now officially part of Royal Palm Beach and no longer considered an enclave. The approximately 110 acres consists of 232 parcels and will help Royal Palm Beach provide better continuity of services to those residents. Senior Planner Josue Leger said that only four e-mails regarding the proposed annexation had been received, and those were just asking for clarification on the meaning of annexation. There were no complaints or concerns about the enclave being part of the village.