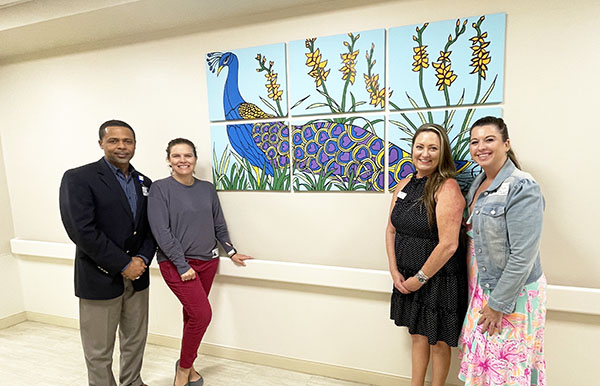 The ParentChild+ Team members from three local nonprofit organizations in Palm Beach County, including Boys Town South Florida, the Guatemalan-Maya Center and the Lake Worth West Regional Planning Group, convened in September 2022 for a team-building retreat intended to uplift, soothe and inspire through visual art making.
"This team is so dedicated to the work that is oftentimes done with families in crisis and in very challenging circumstances, which have been amplified after the pandemic. This team-building activity was a great way to use art as the medium that connected and uplifted us all," said Cobi Dunn, Florida regional director with ParentChild+.
The Children's Services Council of Palm Beach County funds the ParentChild+ program, which serves more than 1,000 at-risk children and their families every year. The nonprofit Foundation for Hospital Art (www.hospitalart.org) supplied the paint-by-number canvases and facilitated the murals' final production and delivery to brighten the hallways at Wellington Regional Medical Center.
Thanks to the partnership between Boys Town South Florida and its Board Member Jermaine Bucknor, who works as the chief financial officer at Wellington Regional Medical Center, the murals found a home. The peacock and the frogs are hanging in the main lobby corridor. The beach scene is in the waiting area outside the NICU.
Palm Beach County ParentChild+ serves more than 1,000 at-risk children and their families. It is fully funded by the Children's Services Council and is a part of the Healthy Beginning's System of Care. The program meets the county's goal that children are ready for school by providing early literacy home visitation services to young children and their caregivers. All of this is made possible through the tremendous dedication of the early learning specialists and their leadership teams at Boys Town South Florida, the Lake Worth West Resident Planning Group and the Guatemalan-Maya Center.