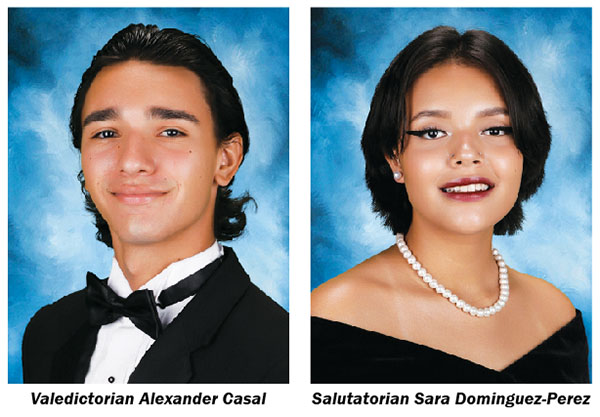 Royal Palm Beach High School's Class of 2023 will graduate on Wednesday, May 24 at 1 p.m., capping an exceptional high school experience.
"The Class of 2023 is incredibly resilient," Principal Michelle Fleming said. "They supported one another and helped to encourage growth and strength amongst each other. They challenged others, questioned the status quo and grew as unique contributors in the community, despite the drastic changes in the world around them."
This is Fleming's second year as the principal at RPBHS, and she's getting ready for her second graduation ceremony, which will take place at the South Florida Fairgrounds.
The students embraced Fleming right away as their principal, she said, despite the challenges they experienced through the pandemic.
"We remember laughing in the halls and lunches together, whereas their formative years were filled with screens and worries unlike many faced at their age," she said. "Their strength isn't only in managing all of that, but in coming together in the years they had to create connections, define themselves and demand more from their educational experience. I am so proud of this class in their growth and achievements."
While their memories will be different than that of previous and future classes, they've had a lasting impact on the school.
"This class reinvigorated the value of face-to-face relationships and encouraged our culture to shift to the new hybrid way of life," she said. "They have been unconditionally determined to improve our collective resilience and to see the benefit of screens, but more importantly, the beauty of a world without them."
But now, the students prepare to walk across the stage and begin a new phase in their lives. "I want them to know that they will always be special to me, and that I hope they will truly live life 'The Royal Way' and practice kindness and compassion on a daily basis," Fleming said of the Class of 2023.
And, of course, her door is always open.
"I look forward to them returning here and sharing their successes," Fleming said. "We always embrace our Wildcat alum and hope that the Class of 2023 has some future educators in it!"
Among two of the future RPBHS graduates are valedictorian Alexander Casal and salutatorian Sara Dominguez-Perez. Both will address the class at the graduation ceremony.
Casal plans on attending the University of Florida, where he will be majoring in astronomy and astrophysics.
"I want to work for an organization such as NASA, or for a private company like SpaceX, and then eventually study to attain a doctorate, so I can teach as a professor at university," he said.
When Casal learned that he was the first in the class, he was thrilled.
"It feels amazing, great to be recognized for all the achievements I have made and the effort I have put into education," he said.
His parents, he noted, were proud and happy for him.
"I'm a student athlete who spends his free time playing soccer," Casal said.
He's also involved in many clubs and organizations, including chess, the National Honor Society and Mu Alpha Theta.
"It means everything to me just to be able to graduate with my friends and people who are my age," he said. "I will forever be grateful for those who helped me along my path in high school, teachers and friends alike."
His experience as an International Baccalaureate (IB) student prepared Casal for his future in ways he never would have imagined.
As graduation comes into view, he wants to share with students that "you can always strive past your best if the amount of effort you place in yourself is consistent."
Dominguez-Perez will be attending the University of Central Florida, majoring in environmental engineering. In the future, she sees herself working with renewable energy systems.
When Dominguez-Perez shared with her family that she was named salutatorian, they were proud and happy for her.
"It feels very fulfilling and rewarding to be salutatorian," she said. "It's a reminder that my hard work over the past four years has paid off, and I am very grateful."
Dominguez-Perez emphasized that the support of family and friends helped her throughout her high school experience.
"Being a part of the Class of 2023 means that I went through many new and scary experiences throughout my high school career, like the COVID-19 pandemic, and I am grateful to have made it out on the other side," she said.
Wishing her classmates success and joy, Dominguez-Perez reminded students to remain humble, with open minds.
"Make sure to listen to the experiences of those around you, even if you think you know best," she said.
For those unable to attend the graduation ceremony in person, it will be streamed live on the Education Network, channel 235 with Xfinity, channel 99 with AT&T and U-verse, and on the School District of Palm Beach County's YouTube site at www.youtube.com/sdpbc/live.