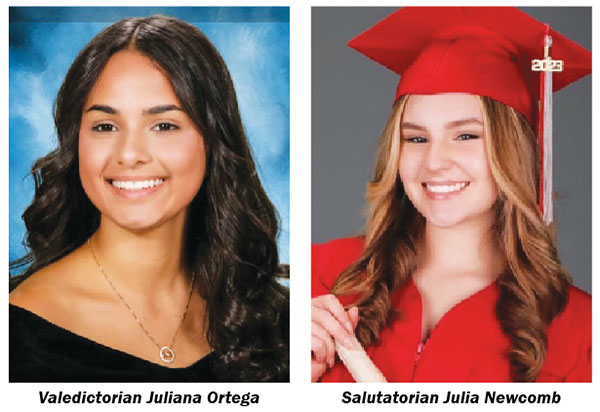 For Seminole Ridge High School Principal Robert Hatcher, valedictorian Juliana Ortega and salutatorian Julia Newcomb, the Thursday, May 25 graduation ceremony is the closing of a circle that began at Western Pines Middle School.
Hatcher was principal at Western Pines for 13 years, including those during which standouts Ortega and Newcomb attended. In 2022, Hatcher was tapped for the top job at Seminole Ridge — just in time to see the Western Pines duo take top honors at SRHS this year.
From Newcomb's student perspective, Hatcher's transition from Western Pines to Seminole Ridge "went really smoothly."
"I had most of these kids in middle school," Hatcher said. "So, there's a comfort level with the parents."
"It's pretty cool," said Ortega about Hatcher's move to the high school prior to her senior year. "We've sort of come full circle."
That circle will be complete for Hatcher, Ortega, Newcomb and some 559 classmates who will cross the stage with the Class of 2023 at 8 a.m. on May 25 at the South Florida Fairgrounds Expo Center.
But the steps to get there weren't easy for either of the school's top students, who had to face dangerous health issues along the way.
Newcomb missed third and fourth grade at H.L. Johnson Elementary School with autoimmune juvenile arthritis, which forced her to carry a portable oxygen unit with her most of the time. She "pushed through" with the help of her family, many of whom are nurses or first responders, she said.
Now in remission, Newcomb even went on to play varsity tennis while working two part-time jobs. She said the experience caused her to gain "a different perspective on life. It made me appreciate what I had."
Ortega, meanwhile, faced her challenge last fall with heart surgery to deal with supraventricular tachycardia — a fast, irregular heartbeat. She'll cross the graduation stage knowing that doctors were unable to find the root cause of the issue and that more surgery may be necessary.
"You do feel it hanging over you, [but] I'm staying positive with the help of my family," Ortega said. "I'm proud of myself for being able to accomplish what I have [scholastically] while dealing with this."
Indeed, Ortega has accomplished much. Earlier this month, she graduated with an associate's degree from Palm Beach State College, getting out of the way many of the needed prerequisites before heading to the University of Notre Dame on a QuestBridge Scholarship.
Ortega had her choice of Duke, Vanderbilt and several Ivy League schools, but when she visited Notre Dame's South Bend, Indiana, campus, she knew that was the place for her.
"The people were so nice, and the campus was so beautiful," she said. "I'm really happy with the choice. It's a better fit for me."
Planning to major in biology, Ortega said she hopes to become a pediatric surgeon.
Newcomb will be staying closer to home, attending the University of Central Florida in Orlando. She plans to major in environmental engineering.
Ortega finished with a 5.25 cumulative weighted grade point average, while Newcomb had a 5.23.
"They're two peas in pod," Hatcher said. "They're the kind of students every principal wants to have."