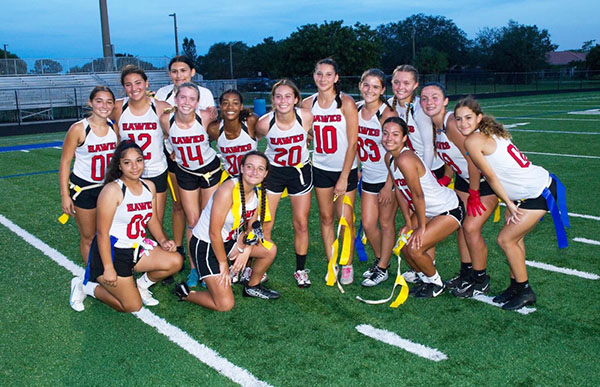 The Seminole Ridge High School girls varsity flag football team is on a mission. The goal of that mission is to win a sixth Florida High School Athletic Association state championship trophy and to hang another banner in the school's gymnasium.
After completing the regular season with an impressive 9-2 record, the Hawks won two Class 2A, District 11 playoff games and advanced to the district tournament final against rival Wellington High School on Thursday, April 20. In that game, the Wolverines — sporting an impressive 12-2 record at the time — defeated the Hawks, 20-6. It was the first girls flag football district title in Wellington's history.
With the victory, Wellington earned a bid to the Class 2A state tournament. Fortunately for the Hawks, their impressive overall record and lofty state ranking also earned them a spot in the state tournament.
As it turned out, Wellington, seeded third, and Seminole Ridge, seeded sixth, played one another in the tournament's first round on Wednesday, April 27. It was a Region 3 quarterfinal clash. By virtue of its district title, Wellington hosted the game. It was expected to be close and competitive — and it was.
Wellington scored first with an opening-quarter touchdown to take a 6-0 lead. The extra-point play was unsuccessful. Both teams were unable to score for the rest of the first half, leaving the Wolverines ahead 6-0 at halftime. In the third quarter, Seminole Ridge quarterback Jaida Salguero connected with teammate Lola Agosto on a touchdown to tie the game at 6-6. Seminole Ridge's point-after effort was unsuccessful. After three quarters, the game remained tied, 6-6.
In the waning minutes of the fourth quarter, Seminole Ridge's Cayley Chieffalo intercepted a Wellington pass and returned it 15 yards for a touchdown. The point-after pass from Salguero to Chelsea Nedoroscik was successful, and Seminole Ridge led, 13-6. For the remainder of the fourth quarter, Wellington was unable to respond, and Seminole Ridge won the game, 13-6.
Statistically, in the game against Wellington, Salguero was 16 for 22 with a touchdown pass, Sanchez recorded two quarterback sacks, and Agosto had a touchdown reception and an interception on defense.
Seminole Ridge head coach Scott O'Hara was proud of his team's come-from-behind win and had words of praise for the opposition.
"It was a tough game, and Wellington is an incredible team," O'Hara said. "They really pushed us to improve from the first match-up. We didn't make as many mistakes against Wellington — penalties, dropped passes, interceptions — in the regional game against them, thankfully."
According to O'Hara, the play of his defense was the key to the win against Wellington.
"We had great overall team defense with great coverage downfield for most of the game, spearheaded by our terrific middle linebacker, Kyarra Howard, and our equally talented safety, Dakota Parks," O'Hara said. "We had tremendous overall play by our fantastic corners Chelsea Nedoroscik and Jaida Salguero. Defensively, we had two interceptions by our magnificent outside linebackers, Cayley Chieffalo and Lola Agosto, and an unbelievable rush by our gifted rusher Angelina Sanchez."
The next game for Seminole Ridge (12-3) will be a Class 2A, Region 3 semifinal game against Palm Beach Gardens High School. That game was played on Wednesday, May 3 at Seminole Ridge, but the result was not available at press time.
It was the third time this season that Seminole Ridge played Palm Beach Gardens. The Hawks prevailed in both previous games: 26-6 on March 14 and 26-18 on April 19.
The Seminole Ridge-Palm Beach Gardens winner will advance to the Class 2A Region 3 final on Monday, May 8 against either Fort Pierce Central or Spanish River. The winner of the Region 3 final will book a ticket to the FHSAA's Class 2A state finals, which will be held in Jacksonville at Mandarin High School on May 12-13.
For Seminole Ridge to complete its mission of earning a trip to the FHSAA's Class 2A final four and winning a state title, it will require four more victories — on May 3, 8, 12 and 13.