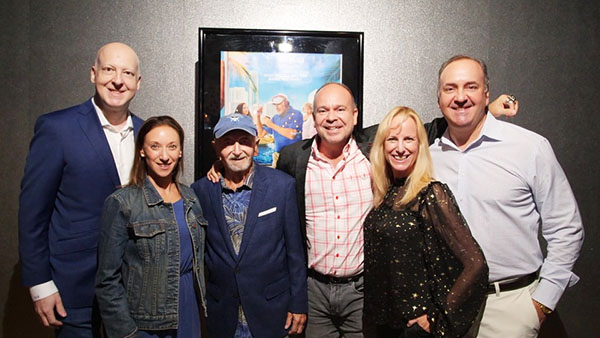 Almost 125 people attended the showing of iMordecai, alongside the movie's namesake, Holocaust survivor Mordecai Samel, at the Movies of Lake Worth on Tuesday, May 23.
The event was hosted by Temple Beth Torah and Wellington residents Todd and Debra Barron to unite the community and share critical, first-hand accounts of a dark history in an unlikely delivery — through comedy. The hope is that the movie will also attract younger and non-Jewish audiences, making an impact beyond traditional supporters.
Originally released on Feb. 9, iMordecai was produced, directed and filmed by Mordecai's son, first-time moviemaker Marvin Samel. Filmed over 29 days, the heartwarming movie is based on true events and stars Academy Award-nominated and two-time Emmy-winning actor Judd Hirsch as Holocaust survivor Mordecai Samel, and Academy Award-nominated actress Carol Kane as his wife, Fela. Both are survivors from Poland, now living in Miami. Their son, Marvin, played by Academy Award-nominated actor Sean Astin, is an ambitious cigar maker trying to support his own family while still being there for his aging parents.
When Mordecai's ancient flip phone breaks, he is forced to take smart phone lessons from Nina, a young employee of Ultratech. She opens Mordecai up to all kinds of novel experiences, like visits to downtown areas and painting classes, making him feel like a kid again, which has him tapping into forgotten memories — including ones of his mother's face, last seen when she died holding his hand on the breadline during the Holocaust.
Remembering events, even traumatic ones, has importance.
"Anything about the Holocaust is important to bring the community together because it teaches us lessons about how we ought to always remember our history, so we don't repeat it again in the future," Temple Beth Torah's Rabbi Andrew Rosenkranz said before the movie started. "Although it's supposed to be a comedy, it's dealing with the survivor of a genocide. The underlying message is that we should never forget, no matter what form that takes. There's not a whole lot of comedies about the Holocaust, so I'm really interested to see what this entails. And I understand this isn't just about the Holocaust. It's about someone learning to work their phone."
The decision to make the Holocaust a secondary theme of the movie was intentional by director Marvin Samel. Weaving it in through subtle flashbacks and layered with comedic relief was a way to attract younger crowds and non-Jewish viewers, as well as Jewish supporters. iMordecai premiered in January 2022 at the Miami Jewish Film Festival, winning the audience award for best narrative film. Since then, it has done what the director intended it to by bringing all members of the community together.
"We are so happy that the community came together to celebrate the incredible journey of a Holocaust survivor becoming an American success story. Mordecai Samel created a family and embraced a community in South Florida while focusing on the future with a positive outlook. Mordecai and his son Marvin demonstrate that friendship and love are the strongest forces of all," said Todd Barron, who underwrote the event with his wife Debra, making it free for attendees.
Attendees were treated to free drinks and popcorn and engaged in a live question-and-answer session with Mordecai and Marvin Samel following the showing. When asked what 10-year-old Mordecai would have said if he was told he would one day be on the big screen, Mordecai replied, "I would say it's a dream come true. A miracle."