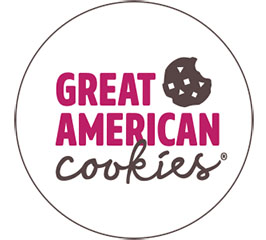 Great American Cookies, the "Original Cookie Cake" franchise, is proud to announce the fifth anniversary of its Wellington location. In honor of the milestone event, the locally owned and operated cookie shop will offer a sweet array of deals and treats on its anniversary weekend, Saturday, Aug. 5.
To celebrate, Great American Cookies Wellington will be offering the following deals from 1 to 3 p.m.: one free frosted chocolate chip cookie per person; five free 16-inch round cookie cakes (must enter Instagram giveaway for this prize, winners to be announced at 2 p.m. See @GACWellingtonGreen on Instagram for details); buy five cookies for $9.99 get one free; and buy 10 cookies for $17.99 get two free.
"I am absolutely thrilled to share this wonderful milestone alongside all of our beloved guests," said Amy Perper, owner of Great American Cookies Wellington. "From the moment we set foot in this warm-hearted community, we have felt nothing but love and support. The bonds my family and our incredible team have forged here are truly something special. As we celebrate this joyous occasion, we eagerly look forward to welcoming back our regulars and extending open arms to new friends with our sweet deals. Here's to creating more unforgettable moments together!"
Great American Cookies has baked up a reputation for not only being the creator of the "Original Cookie Cake," but also for its chocolate chip cookie recipe dating back to 1977. For guests craving more, they can enjoy a deliciously rich brownie, or a Double Doozie, made with delectable icing sandwiched between their favorite cookies. The Wellington location of Great American Cookies is located at 10300 W. Forest Hill Blvd., Suite 116, in the Mall at Wellington Green. It is open Monday through Saturday, 10 a.m. to 8 p.m., and Sunday, 11 a.m. to 6 p.m.
For more information about Great American Cookies, visit www.greatamericancookies.com.