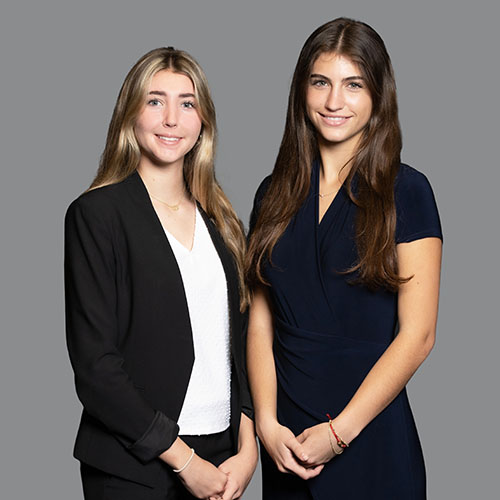 The Executive Women of the Palm Beaches Foundation is kicking off its new season by mentoring an up-and-coming nonprofit led by young women.
On Aug. 29, professional women are invited to network at sponsor The Palm Beach Post and learn about "Ta Ta For Now," a nonprofit started by two students. Ta Ta for Now is led by Jupiter High School 10th graders Jessie Baxter and Holly Milsom and focuses on providing quality and well-fitted undergarments to school-aged girls in Palm Beach County who are clothing insecure. This goal of the initiative is to boost the self-esteem of young women by providing for a basic need that is often overlooked.
Guests to EWPBF's season opener are encouraged to bring a new package of underwear to donate to Ta Ta For Now, an awarded program of Philanthropy Tank. Philanthropy Tank is dedicated to the implementation and sustainability of student-driven social impact programs that address issues facing local communities. The nonprofit organization is led by CEO and past EWPBF President Amy Brand.
"Jessie and Holly were recognized by Philanthropy Tank because of their demonstrated capability for leadership and addressing a need," Brand said. "Showcasing their work is a natural fit for Executive Women, where our mission includes mentoring, supporting and facilitating the next generation of female leaders."
The Executive Women of the Palm Beaches' season opener, catered by Joseph's Classic Market, will be held starting at 5:30 p.m. on Tuesday, Aug. 29 at The Palm Beach Post offices at 2751 S. Dixie Highway, Second Floor, in West Palm Beach. The cost for members is $35 if she brings a new guest; $40 for nonmembers. RSVP to info@ewpb.org.
In recognition of its 40th anniversary, EWPBF has also announced a new conversation series geared toward addressing professional women's challenges. This summer, the organization is hosting moderated, small-group discussions, where they plan to explore executives' most pressing issues and share how EWPBF can help shape solutions to those issues.
Michele Gonzalez led the first of the summer listening tours, hosted at Keiser University, thanks to the work of EWPBF member Elizabeth Houlihan. Sessions are open to all women business professionals in Palm Beach County, but space is limited.
Guests are invited to the next session on Thursday, Aug. 17 from 6 to 7:30 p.m. at the Hubbard Radio Offices (701 Northpoint Parkway, Suite 500, West Palm Beach). RSVP to info@ewpb.org or call (561) 868-7070.
Empowering women to succeed and lead, the Executive Women of the Palm Beaches Foundation is a nonprofit professional association that inspires integrity, equality and leadership in the workplace and community.
To learn more, visit www.ewpb.org.