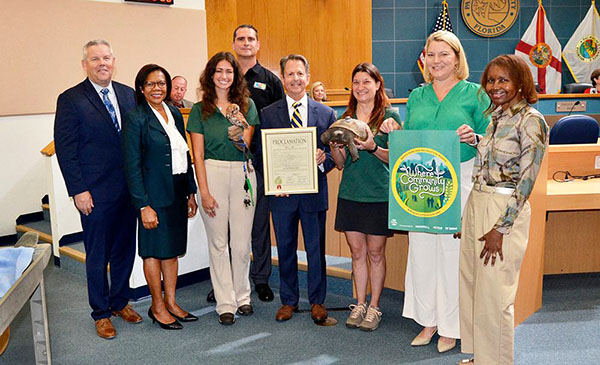 During the Palm Beach County Board of County Commissioners meeting on Tuesday, July 11, Mayor Gregg Weiss proclaimed July as Park and Recreation Month, recognizing the importance of community and the essential benefits derived from park and recreation resources.
Every year in July, Park and Recreation Month is celebrated across the nation to recognize the vital role that parks and recreation agencies and professionals play in positively impacting its community members.
This year's Park and Recreation Month theme, "Where Community Grows," highlights park and recreation agencies and the connection they have to bringing people together, providing essential services and nurturing the growth of communities.
"Your local park system offers year-round opportunities to grow a greater community connection, grow in physical and mental health, and grow your love and appreciation for spending time in nature or recreating indoors," Palm Beach County Parks & Recreation Director Jennifer Cirillo said. "Come visit your essential green and blue infrastructure and celebrate the benefits of parks with us."
Providing many opportunities for healthy, happy living through award-winning parks, inclusive experiences and environmental stewardship, the Palm Beach County Parks & Recreation Department makes the quality of life for county residents and visitors better by providing diverse, safe and affordable recreation services, welcoming parks, and enriching social and cultural experiences.
Visit www.pbcparks.com to check out free and affordable activities happening at county park facilities monthly.
For more information on the National Recreation and Park Association and July as Park and Recreation Month, visit www.nrpa.org/events/july.