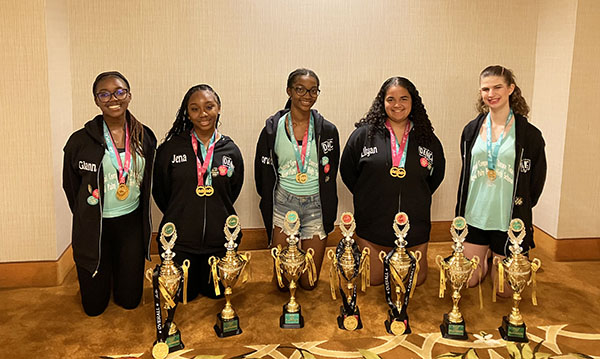 The Elite Dance Squad from Royal Palm Beach High School recently participated in the Showstopper National Dance Competition held July 3-7 at the Gaylord Palms Resort & Convention Center in Orlando. The team was hand-selected by master teacher and choreographer Michele Blecher from the Wildcat Dancers Dance Team.
This was the first time since before the pandemic that Blecher thought it was safe enough for her dancers to compete. Also, this was the first time any of the Elite team members competed at any dance competition. The dancers have performed in many shows throughout Florida, but not in the dance competition realm. Yet the judges and audiences could not tell that the dancers were first-time competitors.
During their week-long competition, the dancers did an outstanding job and brought home platinum trophies for all their routines, overall placements and national grand championship status competing against 3,124 other dance routines.
Starting in May, Blecher choreographed seven new routines to compete in July's Showstopper National Dance Competition. The dancers and Blecher met two hours a week during the month of June to master the new choreography.
The award-winning dance routines were: "She Knows" featuring Gianna Nembhard and Jena Obilas; "Friend Like Me" featuring Kenordia Reynolds and Lilyan Moran; "Welcome to the Madhouse" featuring Gianna Nembhard, Jena Obilas, Kenordia Reynolds, Lilyan Moran and Christina Valuntas; "My Little Love" featuring Jena Obilas; "Lost Boys" featuring Gianna Nembhard; "Reflections" featuring Kenordia Reynolds; and "Jailhouse Rock" featuring Christina Valuntas.