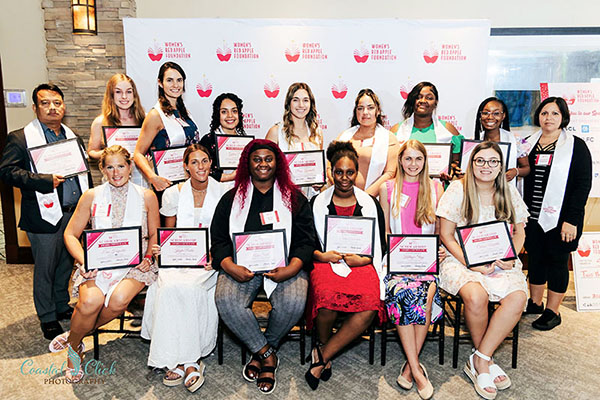 The Women's Red Apple Foundation of Palm Beach County, formerly known as the Women's Chamber Foundation, recently awarded a record 27 scholarships to local women totaling $60,000. In addition, one recipient received a laptop donated by Toshiba Business Solutions.
"We are so thankful of our donors and supporters who enabled us, through their donations, to meet this milestone," said Danielle Shull, president of the foundation. "What makes our organization unique is that our model is such that we seek to offer scholarships not only for graduating high school seniors, but also to women returning to school and seeking higher education later in life. We understand the value of supporting the education of women of all ages. Over the past 19 years, 74 percent of scholarship recipients were between 18 and 22 years of age, and 26 percent were 23 to 40.
The 20th annual Women's Red Apple Scholarship Luncheon took place on June 7 at Seasons 52 in Palm Beach Gardens. The scholarship awards were presented to the 27 recipients in front of a sold-out crowd.
Event sponsors included the Florida Sugar Cane League, New York Life and Willis Lease Finance Corporation. Scholarships were donated by: Susan Bender, Christian Bergstrom, the Bob Bloom Scholarship Fund, the Catalfumo Family, Cigna Healthcare, the Rebecca Doane "Hope for the Future" Scholarship, Dress for Success Palm Beaches, Florida Blue, Florida Crystals, Florida Power & Light, the Gehring Group, Hilda Gonzalez, the Gerald Rittenberg Family, the Merrill G. and Emita E. Hastings Foundation, Seacoast Bank, Toshiba Business Solutions, Suzanne Turner, Renee Verrier and 2GHO Inc.
The foundation raises funds throughout the year from various events and through individual and corporate donations, endowment and family foundations, many of whom have supported recipients over multiple years. For more info., call (561) 578-7321 or visit www.womensredapplefoundation.org.