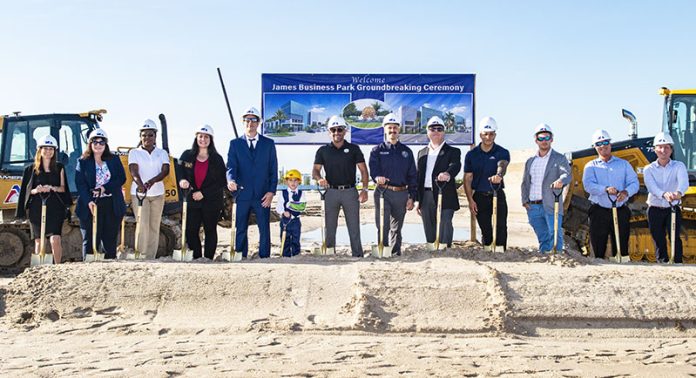 Jamyln Supply, a national e-commerce business specializing in pet and garden/outdoor supplies, has broken ground on the first warehouse/distribution development in the City of Westlake.
On Tuesday, Aug. 1, company representatives were joined by Minto Communities Senior Vice President John Carter, Central Palm Beach County Chamber of Commerce CEO Mary Lou Bedford, city officials and other guests to put ceremonial shovels into the ground to mark the start of the construction of James Business Park.
The business park will be developed with a 10,103-square-foot office/flex building and a 135,540-square-foot warehouse/distribution facility. Jamlyn will relocate its corporate headquarters and distribution activities from West Palm Beach to Westlake, creating approximately 40 new jobs.
"We are very proud to be the first company to deliver a Class A industrial and flex office project to the City of Westlake," Jamlyn founder Ben Tristano said. "I grew up next door in Loxahatchee and fondly remember my teenage years working as a bag boy at the original Winn-Dixie grocery store across the street from where our new facility is being built. So, it gives me personal satisfaction to be able to make a positive economic contribution to the area where my working life began."
The nine-acre site is at 17035 Persimmon Blvd., just west of Seminole Pratt Whitney Road. In December 2022, Jamlyn acquired the land from Minto Communities, the master developer and lead builder in the Westlake community. "I want to welcome Jamlyn to Westlake," Carter said. "They are a wonderful addition to the mix of businesses we aim to attract here."
Jamlyn expects to move into its new home in the second quarter of 2024 and will rent some excess space to outside businesses. The company also plans to open its first brick-and-mortar retail location, Aubrey's Pet Supplies, located next to James Business Park in the new Publix at Westlake Plaza. Aubrey's Pet Supplies has leased 3,600 square feet and plans to open later this year.
A second business park is planned for Westlake. In May 2022, Mitchell Property Realty and Ridgeline Property Group acquired 17.5 acres from Minto to develop the Westlake Commerce Center, a 227,000-square-foot warehouse/distribution/office complex in Westlake Landings, a 50-acre master-planned business park. A groundbreaking date has not yet been scheduled.