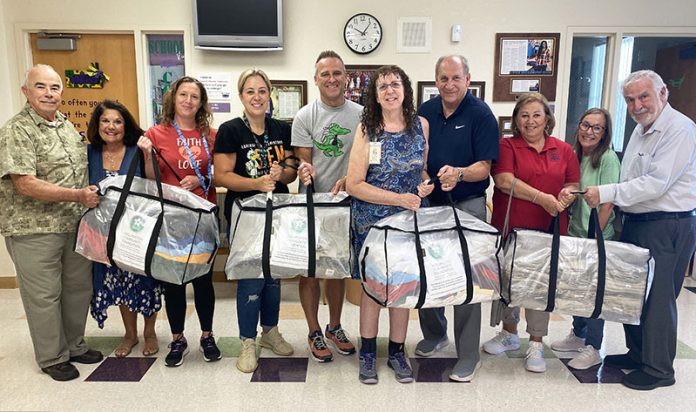 By Shannon Anastasio
Demonstrating an unyielding dedication to fostering a stronger community, the Wellington Community Foundation has once again showcased its commitment through a transformative endeavor focused on enhancing the prospects of Wellington children in need.
Thanks to the generosity of many donors and sponsors, the foundation has successfully orchestrated its eighth annual back-to-school distribution of 300 fully equipped backpacks and 400 new uniforms, catering to the needs of elementary school students across six Wellington schools.
This impactful initiative received unanimous approval during the foundation's July 10 board meeting. Committee Chair Maggie Zeller led the effort to reimagine the distribution process, ensuring that backpacks and uniforms are directly delivered to each school. This approach empowered school principals, staff and faculty to promptly address the needs of those students requiring a hand-up, providing them with backpacks, school supplies and brand-new uniforms. These resources will undoubtedly find their way into the hands of Wellington's students, laying the foundation for a promising and successful school year.
At the core of this endeavor lies the foundation's commitment to gather funding for a comprehensive array of school supplies, backpacks and uniforms, a testament to the dedication of its board of directors. Collaborating with the local nonprofit organization Back to Basics, the foundation was able to secure new uniforms through their wholesale agreement, and donors and sponsors provided funds to enable the assembly of the jam-packed school supply backpacks. With an assist from the Village of Wellington, the foundation organized backpacks for delivery by Wellington Village Council members John McGovern, Michael Napoleone, Tanya Siskind and Mayor Anne Gerwig to the six elementary schools serving the community.
In an era where the unity of communities holds unparalleled importance, the Wellington Community Foundation shows an unwavering dedication to enhancing the lives of the upcoming generation through initiatives like this year's back-to-school program. This achievement stands as compelling evidence of the boundless potential of working together and the profound effects that materialize when a community rallies together toward a shared goal.
To learn more about this initiative, or how you can become part of the Wellington Community Foundation's mission, visit www.wellingtoncommunityfoundation.org.