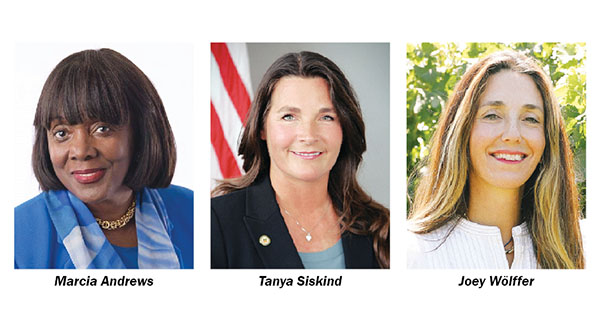 School Board Member Marcia Andrews, Wellington Councilwoman Tanya Siskind and entrepreneur Joey Wölffer have been appointed to the HCA Florida Palms West Hospital Board of Trustees.
As members of the board, they will further the role and purpose of the hospital by providing oversight and advice to the partnership and the board of managers.
Andrews has served as a school board member since 2010. In addition to her work on the hospital's board, she also serves on educational advisory boards in the community, the Council of Great City Schools, and numerous community, social and civic organizations. Andrews has been an educator for 48 years and has lived in the western communities for 38 years.
"I am very excited to serve on the HCA Florida Palms West Hospital Board of Trustees. I want to thank Mr. [Jason] Kimbrell, [Palms West Hospital CEO], for this wonderful opportunity and look forward to working with him and the board to serve our community," Andrews said.
Siskind joined the Wellington council in 2016 after serving in leadership roles with community organizations and has served as vice mayor for the village. She is a Realtor with Keller Williams Wellington and also serves on the board of directors for the Education Foundation of Palm Beach County. She has lived in Wellington for 22 years.
"I'm honored to join the board of trustees to help further the overall mission and strategies of HCA Florida Palms West Hospital by contributing my government, nonprofit and private sector experience," Siskind said.
Wölffer is the chief brand officer and co-owner of Wölffer Estate Vineyards, based in the Hamptons. In addition to the vineyard, she and her brother Marc took over the Tasting Room, Wine Stand and Wölffer Estate Stables, where she oversees the stable facility.
Wölffer also has a luxe jewelry, clothing and accessories boutique. She is also involved with the Bridgehampton Center, Southampton Hospital and Every Mother Counts. As a champion equestrian, Wölffer calls the Wellington community home during the equestrian season.
"I am thrilled to be joining the board at HCA Florida Palms West Hospital. Healthcare is an incredibly important and dynamic field that directly impacts people's lives," Wölffer said. "I am looking forward to helping with effective marketing strategies that can help the hospital reach an even greater audience as well as stay competitive in these ever-changing times in the healthcare world."
These new board members join Dr. Seth Herbst, physician member and board chair, Kimbrell, HCA East Florida Division President Charles Gressle, Chief of Staff Dr. Arul Chidambaram, community member Tara Gallagher and physician member Dr. Roger Duncan on the board of trustees.