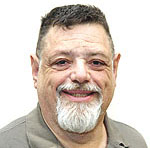 'I' ON CULTURE
Being dragged off to the movies for films you intended to miss can sometimes be pretty good or even better than that. Family dragged me to two films in the last couple of weeks, and I enjoyed both despite the fact that I never would have gone on my own.
My wife convinced me to see My Big Fat Greek Wedding 3, a second sequel to a hit movie about the life of Toula Portokalos (Nia Vardalos) that switches from the U.S. to Greece, particularly the island of Corfu. Now, instead of a comedy about the issues of non-Greek Ian Miller (John Corbett) marrying into a fun but nutsy immigrant family, we see the whole family trying to adjust to leaving Chicago to visit the "homeland." The McGuffin: bring her late father's diary to his three boyhood friends who would understand the "journey of his life." The real story: almost no one is around and has to be hunted down.
The old friends are not immediately available, but the crazy family, particularly Aunt Voula (Andrea Martin) fill in admirably. With the Portokalos family, they all go. Well, almost. Mama (Lainie Kazan) is home with the beginning of Alzheimer's. But the focus is on the fun. There are many views of Corfu, which is a beautiful place, and a lot of Greek food and joy to admire. Yes, a sophisticated nine-year-old might figure out the plot in advance, but it still is fun. And a 12-year-old might find a few of the jokes stale but, hey, it is a nice Greek vacation/travelogue. Oh, and a chance to enjoy every possible positive Greek stereotype.
Vardalos has done a nice job as director as well as star. Corbett's role is less central, but he is a good balance wheel for Vardalos. Martin steals every scene she is in. Her character could be the center of a film. The whole cast, most of whom are actually Greek, are great fun and make you care about them. And, of course, they do find a way to have a nice wedding.
It is a pleasant time, although not much more than a good B film. But those are nice, too. Tuesdays at the Regal, where prices are lower, would be a good time to see the movie.
I was also taken to Blue Beetle by my two grandsons (happy birthday, Jake). I was not particularly interested; too many superhero movies. But I really enjoyed this one. It was far more fun than most similar films. Yes, it's sort of similar: young hero gets outer space item that turns him into a super hero. Actually, it's sort of Venom. But in this case, hero Jaime Reyes (Xolo Maridueña) has a really supportive family. And the crazy family is with him all the way through the fighting. And they're great fun. With both films, it's nice to have families again.
The Kord family, led by villainess Victoria (Susan Sarandon) has plans for a super weapon system that actually grows inside the body. Her niece Jenny Kord (Bruna Marquezine), who sees the work as trying for world domination, steals a weird blue beetle and hands it off to Jaime so he can get it out of the building. He discovers that the beetle takes him over, and he winds up in a battle with the evil villain. At that point, his family joins in. Nana, the grandmother, (Adriana Barraza), who has been a very religious woman, turns out to be expert with a machine gun, yelling "vive la revolución" as she mows down bad guys. And Uncle Rudy (George Lopez) proves very handy. The story really works because it is about family and love instead of simply wiping out bad guys.
The cast is what really makes the film. Maridueña is fine as the rather ambivalent hero. He doesn't really want to fight, and certainly does not want to kill. Barraza is terrific. Lopez is very funny. And Belissa Escobedo as Jaime's sister Milagro is exceptional as his "wingman." Sarandon is over the top as the villain, but that is what is called for.
Summing up: I had a great time at a movie that almost completely disappeared in the wake of Barbie and Oppenheimer, but which was actually more fun than a lot of films that did better. If things are quiet and you want a film, and this is still playing, enjoy.
So maybe things are not as desperate with the movies as people think. Only time will tell.