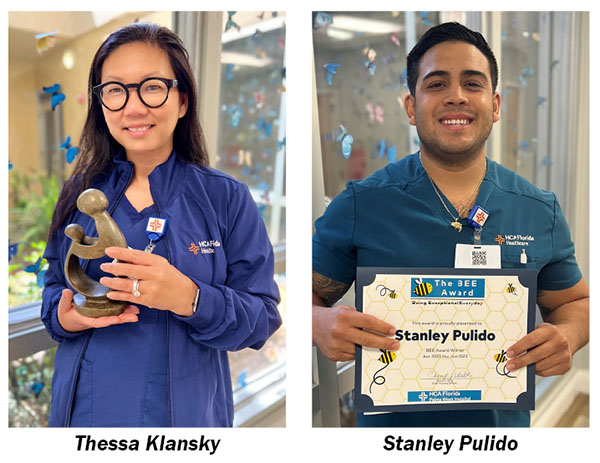 HCA Florida Palms West Hospital is proud to announce its latest Daisy and Bee award winners.
Thessa Klansky has been selected as the latest nurse to win the Daisy Award.
Klansky, a registered nurse from the hospital's Ambulatory Surgical Unit, was nominated for the care and attention that she provided a patient as he prepared for surgery.
"Thessa was the perfect nurse for [my husband]. She intuitively caught on to his free spirit and made him feel right at home — in a surgical room no less," according to her nomination form. "Thessa is a human angel with a gift she freely shares."
Klansky has been with Palms West Hospital for nearly seven years.
The hospital's latest Bee Award winner is Stanley Pulido, a paramedic in the hospital's emergency room who has been with the hospital for two years.
Pulido received several nominations for the award, including one that read, "From the moment my grandmother walked into the ER, Stanley made us feel at home and safe. He was so patient and caring with her. He made her laugh and smile, and gained her trust."
The Daisy Award is a nationally recognized distinction that honors "the super-human work nurses do for patients and families every day," according to the Daisy Foundation.
The Bee Award, which stands for Beyond Exceptional Expectations, is also a nationally recognized award that recognizes team members outside of nursing for going above and beyond to care for patients, visitors and each other.