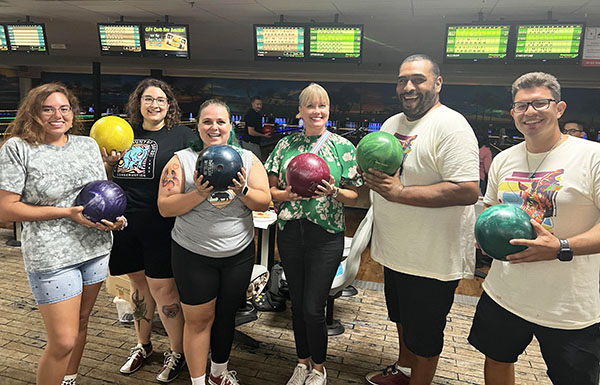 Since 2001, staff at Lion Country Safari has maintained a chapter with the American Association of Zoo Keepers (AAZK). While the nonprofit organization was founded by San Diego zookeepers in 1967, it has spread across the country with a mission to provide resources and support for animal care professionals.
Now, AAZK has expanded to include research and conservation, and the LCS AAZK chapter is celebrating with "Rhinopalooza" — five different events designed to raise funds for rhinoceros conservation through the International Rhino Foundation and the Lewa Wildlife Conservancy.
"Our chapter this year has focused on the 11 endangered species that we have here on property [at Lion Country Safari], and then other conservation work," said Frank Verney, LCS AAZK chapter president and a 17-year employee at the park. "This is my first year as president of the chapter, but I've been involved for 10 years. I am the program manager for Bowling for Rhinos nationally, so I help oversee all the other chapters. I'm doing a presentation on what all 70 to 80 chapters across the nation have done for rhino conservation at the AAZK conference in Akron, Ohio."
Bowling for Rhinos is the name for an annual event through AAZK, but Verney's chapter combined a quarter auction, an art class called Art Gone Rhino, a twilight tour and Winos for Rhinos with the traditional bowling night.
"At our Bowling for Rhinos event, we raised just over $2,500," Verney said. "In total, we've raised more than $3,000 and hope that our Winos for Rhinos event, which is coming up on Sept. 29, will send us over the top. 100 percent of the money raised goes to conservation, and we've already donated more money this year than any previous one for our chapter."
The Winos for Rhinos event includes a wine tasting and dinner (adults only) for $25 per person. To keep the event intimate, there are only 50 spaces available.
In addition to celebrating the 40th southern white rhinoceros calf being born at Lion Country Safari, the chapter has planted a butterfly garden, volunteered with other nonprofits and provided presentations for local groups. The group is already looking ahead to working with Bat Conservation International on a new project.
"We wanted to see if we have Florida bonneted bats flying around our area. There is no known recording of any Florida bonneted bats flying in Palm Beach County; they are only located south in Fort Lauderdale and Miami-Dade County. They are critically endangered with less than 1,000 of them left, so we put up a detector to see what kinds of bats we have here," Verney explained.
The good news? Eight different bat species were recorded flying over Lion Country Safari, including the Florida bonneted bat and the endangered tricolored bat.
"We are so excited as the first facility to record them in Palm Beach County. Now Bat Conservation International is coming out again to see where we can put the radar again and see if they are landing here," Verney said. "If they do, that's even a bigger plus for us, and we will put bat houses up for them to make sure that they're doing OK. So, that's another whole big project."
For more information about AAZK, visit www.aazk.org. To support Lion Country Safari's AAZK chapter, visit them on social media, through the "Saving Wildlife" section at www.lioncountrysafari.com or e-mail aazklcs@gmail.com.