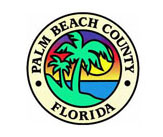 The Palm Beach County Office of Community Revitalization (OCR) is excited to invite the community to the inaugural Palm Beach County CCRT Community Therapy Dog and Fitness event on Saturday, Oct. 21 from 8:30 a.m. to 2 p.m. at the Osborne Pavilion in John Prince Park, located at 2520 Lake Worth Road.
This first-of-its-kind innovative community event is aimed to boost personal confidence, reduce stress and provide stability to the community. It combines fitness, mental and emotional health by introducing pet therapy with a team of therapy dogs provided by the PBSO Therapy K9 Dog Unit, Paws Be with You and the Wet Kisses Pet Company. The event exemplifies OCR's ongoing commitment to enhancing the quality of life for Palm Beach County residents through collaborative partnerships and tailored initiatives.
The event will begin with an AKC Fit Dog Walk, a fitness walk designed to promote physical health and insights into canine bonding and training. The event will transition into a Pet Therapy Presentation to learn about the benefits of pet therapy and witness live demonstrations of canine bonding and training. Engaging, interactive activities will be provided for all ages, featuring music, food and games.
For more info., contact OCR Director Houston L. Tate at (561) 233-5303 or htate@pbcgov.org, or OCR Principal Planner Ruth Moguillansky at (561) 233-5376 or rmoguill@pbcgov.org.