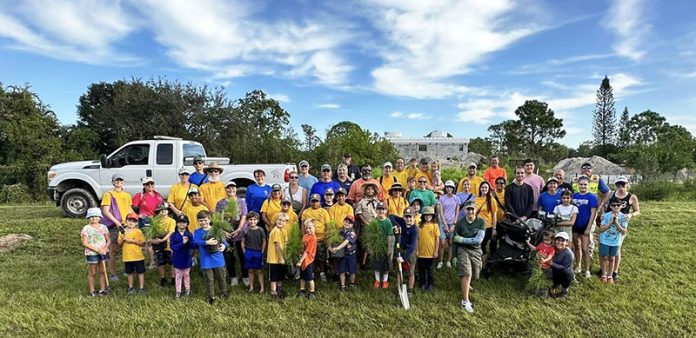 The Wellington Garden Club, in partnership with the Village of Wellington, held its ninth annual tree-planting event on Saturday, Sept. 23. The event is chosen to be held on National Public Lands Day, which is always the fourth Saturday in September, when volunteers from all over the nation go out and plant trees at public parks and forests.
It was a great event with more than 60 volunteers coming out to support the tree planting to place more than 600 Florida native slash pine seedlings in the ground at the Wellington Environmental Preserve.
It was a beautiful, sunny and clear day. Volunteers for this family-friendly event included Wellington Garden Club members, local scouts, Wellington Village Council members, local students, teachers, along with children and grandchildren.
The club thanks Councilwoman Tanya Siskind, who offered greetings to the group of volunteers, along with Landscape Superintendent Will Gurney, who explained how to plant the seedlings.
The day was a joint effort between the Wellington Garden Club and the Village of Wellington. The village's landscape division provided water, golf carts to drive the weary volunteers as needed, and even pre-dug holes to plant the beautiful pine seedlings.
Next year, on Saturday, Sept. 28, 2024, there are plans to have a special tree planting event to commemorate the 10th year of this joint endeavor. Mark your calendars now and make plans to volunteer.