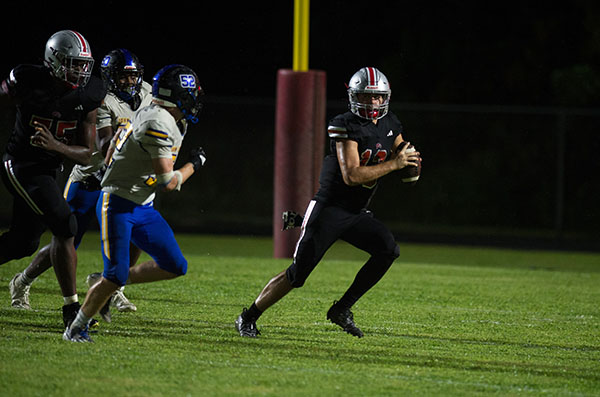 The Palm Beach Central High School varsity football team remains unbeaten this fall. After shutting out John I. Leonard High School 56-0 on Friday, Sept. 29, the Broncos moved to 5-0.
During their two most recent games, the Bronco offense has continued to score in bunches, and its defense is now beginning to get stingy. The offense has scored 93 points, and its defense has given up just seven points during the last two games.
On Friday, Oct. 6, Palm Beach Central will host one of the biggest games not only in Palm Beach County but all of Florida. That night, the undefeated Benjamin School Buccaneers (5-0) from Palm Beach Gardens will travel to Wellington. Kickoff is set for 6:30 p.m. One of the key players to watch in this game is the Buccaneers' senior running back Chauncey Bowens, a University of Georgia commit.
The Palm Beach Central-Benjamin game will feature two high-octane offenses and a pair of athletic, aggressive defenses. So far this season, the Benjamin School has averaged 39.4 points per game and is only giving up an average 6.6 points a game, while Palm Beach Central is averaging 43.6 points a game, and its defense is giving up an average of 21.2 points a game.
After playing Benjamin, Palm Beach Central will stay home and play the Forest Hill High School Falcons on Thursday, Oct. 12. That game will kick off at 6:30 p.m.
The Seminole Ridge High School Hawks fell from the ranks of the unbeaten on Friday, Sept. 29, when they were upset on homecoming by the visiting John Carroll Catholic Eagles, 21-18.
The Hawks, now 4-1, trailed by one at halftime, but rallied to take an 18-13 lead after three quarters. In the fourth quarter, the Hawks gave up the game-winning touchdown to the visitors. The homecoming king and queen at Seminole Ridge that night were Toby Norton and Ayda Kilic.
The Hawks will be looking to pick up their fifth win of the season on Friday, Oct. 6 when they travel to play the Boynton Beach High School Tigers (1-4). Kickoff is at 6:30 p.m. Then, on Friday, Oct. 13, the Hawks will host Atlantic High School at 6:30 p.m.
The Royal Palm Beach High School Wildcats and the Wellington High School Wolverines are continuing to persevere during their current seasons, which can best be labeled as rebuilding campaigns. Both squads have 1-5 records.
Royal Palm Beach's lone win was a 21-7 victory against Suncoast High School back on Sept. 7, while Wellington's only victory this season was a 16-15 win over Royal Palm Beach on Sept. 14.
On Friday, Oct. 6, Royal Palm Beach will play at home against Lake Worth High School (1-4), while Wellington will head north to Indian River County to play at Vero Beach High School (4-1).
On Thursday, Oct. 12, the Wildcats will host the Palm Beach Gardens Gators for a 6:30 p.m. kickoff.
According to Royal Palm Beach head coach Chuck Kenyon, his team must continue to rep through its offensive plays in practice so that everybody on the starting offense is on the same page.
On Thursday, Oct. 12, the Wolverines will travel to Greenacres to play John I. Leonard High School. That game is scheduled to kick off at 6:30 p.m.
The King's Academy Lions are enjoying a memorable football season. After their opening season loss to St. Andrews School, the Lions have reeled off four straight wins against Glades Central High School, Somerset Academy Canyons, John Carroll Catholic and Gulliver Prep.
The Lions' offense has averaged 39.5 points per game, while only allowing 12.75 points a game. After having a bye week on Friday, Sept. 29, the Lions return to the gridiron on Friday, Oct. 6, when they host St. John Paul II Academy (1-4) from Boca Raton. On Thursday, Oct. 12, TKA travels to Riviera Beach to play Suncoast High School.
The Berean Christian School Bulldogs remain winless on the current season. The Bulldogs (0-5) did break a season-long scoreless drought in their 41-6 loss at Miami Country Day School. The Bulldogs will continue their search for a victory when they host the Oxbridge Academy on Monday, Oct. 9. Kickoff will be at 7 p.m.