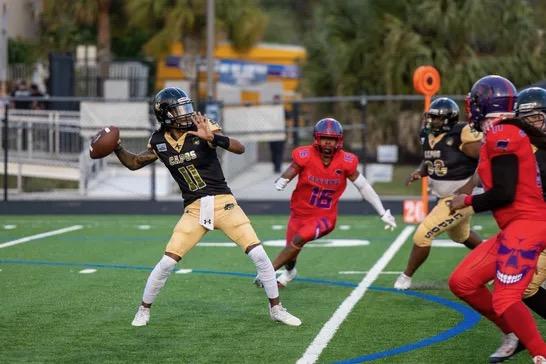 If you have played your last down of high school football and you still have unfulfilled gridiron dreams, there's an opportunity for you to get back on the field. The steppingstone to continuing your football career is the Palm Beach Capos, which is part of the Elite American Football League (EAFL).
The owner and head coach of the Capos is Royal Palm Beach resident and professional bodyguard Brent Bargerstock.
"We are a true amateur football team where players pay to play the game," said Bargerstock, 35, who played high school football at John I. Leonard High School and Palm Beach Central High School. "We are not a semi-pro football league because we need to maintain the eligibility of potential college football players."
The Capos, which play in the spring, conducted a tryout for the spring 2024 season on Sunday, Oct. 2 at Somerset Academy Canyons in western Boynton Beach. This coming spring will be the second season of 11-player football for the Capos. The roster will be filled with players from age 18 to the late 30s.
During the three-hour tryout, players were timed in the 40-yard dash, measured in the broad jump and observed in the shuttle run. There was also a one-on-one drill where receivers went head-to-head against defensive backs.
"We had a great turnout with some very talented young men showing their athleticism off to our staff," Bargerstock said. "We're excited to see the old faces as well, as the new faces start to grow together into family, which will translate to on-field performance. We won't be hosting another tryout for the season, but those who missed it are encouraged to come out when we start OTAs [organized team activities]. Those dates and locations will be announced soon."
More than 50 players showed up for the tryout.
"I hope to end up with 60 to 70 players for the spring 2024 season," Bargerstock said. "Our players come from all over Palm Beach County."
This past spring, the Capos had a 3-7 record and played their games on Saturday nights at Wellington High School. The team's home games next spring will be played at Somerset Academy Canyons.
According to Bargerstock, last year's team started with 65 players and ended up with about 30 players on the roster at the season's end.
"We lost some players to injury and some quit playing because they weren't happy with enough playing time," Bargerstock explained.
He expects more success and more committed players in 2024.
According to Bargerstock, there are a few reasons that motivate players to suit up for the Capos.
"Some players are looking to prove they are good enough for a scholarship to play college football, some players still have dreams of playing pro football, and many players simply have a passion to play football for another season," he said.
In addition to coaching the football team, Bargerstock has been able to recruit cheerleaders and a small marching band to be present during games, which adds to the overall experience for both players and fans. He has also been able to generate regular news coverage from the West Palm Beach-based radio station ESPN 360, which provides live reads and updates during the days leading up to the games.
The Capos will kick off their regular season in late February and will play through early May. After that, the playoffs begin. The league champion will be crowned in June. The 2023 EAFL championship game was played between the Georgia Cobras and the South Florida Browns. The Browns won, 21-20.
Interested players who missed the tryout and still want to play for the team next spring are welcome to contact Bargerstock at (561) 839-0531 or brenton.bargerstock@icloud.com. Learn more about the team at www.palmbeachcapos.com.