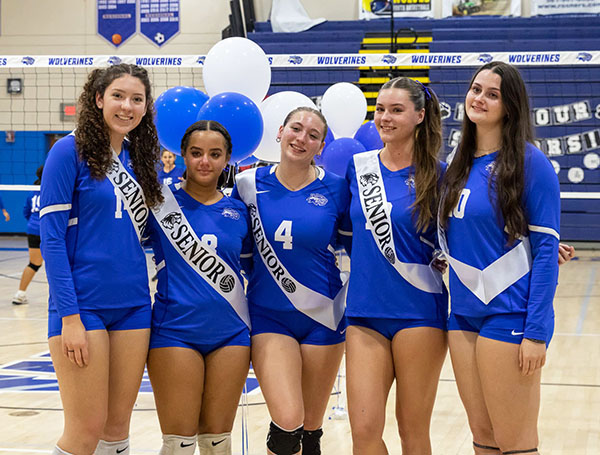 While this year's girls varsity volleyball team from Wellington High School may have had an up-and-down regular season, its recent Senior Night celebration was memorable. On Tuesday, Oct. 10, the Wolverines hosted Wellington's Somerset Academy and easily prevailed in four sets.
Of course, the main purpose of Senior Night was to honor and recognize the team's five seniors, who were playing their final regular season home game of their high school volleyball careers. Those five seniors are Ana Contreras (middle hitter), Logan Seal (outside hitter), Roelis "Liz" Rodriguez (libero), Tegan Miller (middle hitter) and Ava Rodgers (outside hitter).
The five seniors were honored with bouquets of flowers, cake, balloons, framed team photos, goody bags, pictorial displays summarizing each girl's high school volleyball career, and oversized, customized, personalized volleyballs.
WHS head volleyball coach Bill Irmiter had strong words of praise for each of the five seniors on his team. Irmiter said that Contreras plays with a laser-focused mindset.
"Ana is a leader by the way she plays on the court," Irmiter said. "Her intensity and attention to detail are unmatched."
Irmiter said that Seal leads by example.
"Logan is a leader to everyone, on the court and off the court," he said. "She is the first one in and the last one out. The younger players across the whole program definitely look up to her, and I am so glad to have her as a part of the team."
Irmiter said that Rodriguez can play any position on the court.
"Liz is the person that I can put in for anyone, and she will do what she can to get the job done," he said. "She is determined and has such a big love for the game."
Irmiter said that Miller, one of the team's co-captains, brings her "A" game to the volleyball court every day.
"Tegan is a player with such great enthusiasm and skill," Irmiter said. "She uplifts everyone, and she has the skills to get the job done."
According to Irmiter, Rodgers' unmatched passion for the game is contagious.
"Ava is one of the co-captains on the team," he said. "Her skill level and love for the game is evident, and it spreads throughout the whole team."
According to Irmiter, Rodgers has led by example throughout the season. At the beginning of the season, he had high expectations for his senior co-captain.
"Her role is much more than being an influence on the court," Irmiter said back in early August. "Her job is to be sure that she holds the team responsible for things while I run practice. The standard she holds for her team is never questioned. She does the best job possible while always improving her leadership skills in being a co-captain of the team."
Rodgers did just that. She led the team in many statistical categories this season. She was the team leader in kills (143), kills per set (2.5), digs (167), digs per set (2.9) and receptions (259).
Fellow co-captain Miller has also had a strong statistical performance this season. She is third in kills (71), kills per set (1.5) and total blocks (23).
As a team, Wellington concluded its regular season with three straight victories to finish with a 9-9 record. Fortunately, the Wolverines finished in first place in its Florida High School Athletic Association (FHSAA) Class 7A, District 8 standings, which means that Wellington hosted the district tournament.
Wellington began play in the Class 7A, District 8 tournament on Monday, Oct. 16. The Wolverines opened play with a 25-10, 25-7, 25-14 victory against Lake Worth High School. That win propelled Wellington to a tournament semifinal against local rival Royal Palm Beach High School on Tuesday, Oct. 17, which Wellington won 25-15, 25-14, 19-25, 25-23. With that win, WHS (11-9) advanced to the District 8 tournament final on Thursday, Oct. 19 against Park Vista High School. The score was not available at press time.
The winner of the district tournament final earns an automatic berth in the Class 7A state playoffs, which start on Wednesday, Oct. 25. The first-round location and opponent will be announced Sunday, Oct. 22.