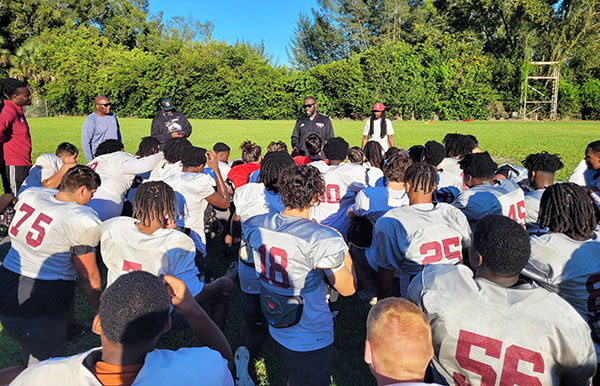 As the fall football regular season draws to a close, it's becoming abundantly clear which teams will or will not be playing in the Florida High School Athletic Association's (FHSAA) postseason. One team that will definitely be a playoff participant this year will be the Broncos from Palm Beach Central High School.
After seven games, the Broncos (7-0) remain undefeated and are the only undefeated high school football team in Palm Beach County. Of Palm Beach Central's two most recent wins, the victory against the Benjamin School Buccaneers on Friday, Oct. 6 lived up to its pre-game billing.
In that game, Palm Beach Central trailed 17-0 after three quarters. That's when the game started to become competitive and interesting. The Broncos responded like champions by outscoring the Buccaneers 27-7 in the fourth quarter to win, 27-24.
According to Palm Beach Central head coach Kevin Thompson, his team refused to give up in the game. The Broncos battled until time ran out on the scoreboard.
"At the beginning of the fourth quarter, I told the offense that we can't score 17 points in one play," Thompson recalled. "It all starts with making one good play. And then making another one and another one."
Palm Beach Central's four fourth-quarter touchdowns were scored by Kamare Williams, Leon Williams, Nedrick Boldin and Preston Parker.
The Palm Beach Central defense took the same approach in the fourth quarter against Benjamin. The Bronco defenders did their part by forcing four fumbles by Benjamin in the final 12 minutes of the game.
The following week, on Thursday, Oct. 12, Palm Beach Central hosted the Forest Hill High School Falcons. The Broncos led 14-6 after the first quarter and extended their advantage to 35-12 by halftime. The Broncos cruised to a 48-12 victory.
According to Thompson, one of the keys to his team's success has been the ability to avoid being complacent.
"On our depth chart, we have somebody for somebody, and if you don't practice hard or play hard, you lose your spot," said Thompson, who has 55 players on his varsity squad. "We go three people deep at many positions."
Palm Beach Central will pursue its eighth regular season win on Friday, Oct. 20 when it plays at Palm Beach Gardens High School. The Broncos will finish off their regular season with the annual Wellington Cup game, which is being held this year at Wellington High School on Friday, Oct. 27, followed on Friday, Nov. 3, when the Broncos host Cardinal Newman High School.
Thompson said that his team will not look ahead to any potential playoff opponent because his squad has three important games to conclude the regular season.
"We have a big competitive rivalry with Palm Beach Gardens, and I know the Gators will play hard," Thompson said. "They always do."
According to Thompson, the annual Wellington Cup game with Wellington High School is always competitive, attracts a big crowd and will bring out the best in both teams, since all the players and coaches understand the magnitude of this annual game. Palm Beach Central won last year's Wellington Cup game, 41-14.
Meanwhile, the game against Cardinal Newman is expected to be as competitive as the contest against the Benjamin School.
For Palm Beach Central to continue its winning ways, sophomore quarterback Caleb Butler must continue to connect with his strong corps of receivers, which include Kein St. Fort, Sean Raymond, Waden Charles, Kamare Williams, Preston Parker, Matthew Theroux, Britton Holmes and Nedrick Boldin.
The FHSAA's Class 4M playoffs will begin the following week.
With its 7-0 record, Palm Beach Central is currently ranked as the sixth-best team in Class 4M and is the top-ranked team in its FHSAA region. If Palm Beach Central remains the top-ranked team in its region, that lofty seeding will guarantee the Broncos the home-field advantage for its three regional playoff games.
After that, there's a state semifinal, followed by the Class 4M state championship game, which will be played on Saturday, Dec. 9 at Ken Riley Field at Bragg Memorial Stadium on the campus of Florida A&M University in Tallahassee.
Last year, Palm Beach Central lost in the Class 4M state semifinals to Apopka High School. This year's Palm Beach Central football team is working on going at least one step further than last year's senior-laden team, which would be all the way to the state championship game.