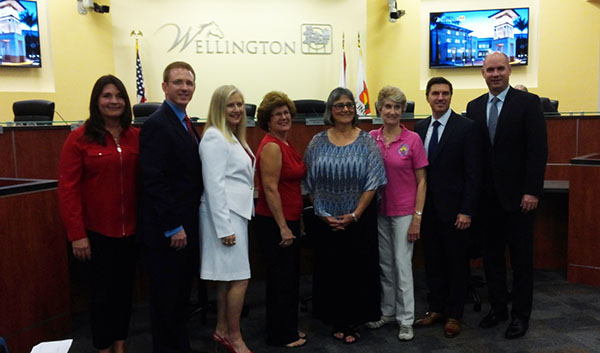 The Wellington Village Council approved a proclamation last week designating March 12-18 as Wellington Garden Week.
The proclamation was at the request of the Wellington Garden Club, which is holding its Plants Galore & More event at the Wellington Amphitheater on Sunday, March 12 from 11 a.m. to 5 p.m.
The Wellington Garden Club, which is a member of the American Federation of Garden Clubs and National Garden Clubs Inc., has designated the second week of March as Wellington Garden Week with a purpose to promote interest in horticulture and further the art of amateur gardening.
Mayor Anne Gerwig said she plans to attend the Wellington Garden Club's event and invited members attending the Feb. 14 council meeting to tell others about it.
Wellington Garden Club President Kathy Siena said they hope to make the village more beautiful than it is during Wellington Garden Week, and added that the club will be holding its next regular meeting on Monday, March 6 at 9:30 a.m. in the Lakeview Room at the Wellington Community Center.
Former Wellington Garden Club President Twig Morris said Plants Galore & More will have great seminars to teach everybody all they ever wanted to know about gardening.
"We have Home Depot coming to do some things for the kids, and we have a local company in Wellington called Growums that's also going to be here with information and kits that they put together for the kids, so it's a great family time," Morris said. "I'm urging all of you to spread the word."
The Home Depot Craft Workshop and Growums Kids Gardening Kit Demo are both scheduled from noon to 3 p.m.
The Wellington Garden Club, which began in 1982, has more than 145 members. It meets regularly to promote gardening, participate in civic projects, sponsor youth gardening groups, and educate members and the public on protecting and conserving natural resources.
Plants Galore & More will feature plants appropriate for spring gardens, plus free seminars on orchid care, easy flower arrangements and proper tree-pruning techniques. The many raffle items include a flowering tree, a planted window box, outdoor rugs, a kids gardening basket and a pallet of mulch.
Environmental displays will be presented by local organizations.
The week will also include garden-related activities at local schools to be conducted by high school garden clubs. During the week, the Wellington Garden Club will also donate plants and floral designs to be given to support local businesses and be placed in public areas.
The club's other civic activities include participation in the village's adopt-a-street program. Volunteers meet next to the Wellington Dog Park near the corner of Greenbriar Blvd. and Aero Club Drive at 9 a.m. on designated dates four times a year to pick up litter in the parking lot, continuing to the corner of Wellington Trace and Greenbriar Blvd.
The club maintains the gardens at the Wellington Community Center, where it has built a butterfly garden at the entrance, planted new hedges and regularly weeds the potted plants.
The club also participates in book donations, conducts junior gardener programs and raises money for academic scholarships, including Save the Earth's Environment through Knowledge (SEEK), an annual environmental conference for high school students sponsored by the Florida Federation of Garden Clubs. Each summer, 70 high school students from across the state attend the four-day conference. Activities include field trips, talks, workshops and careers in environmental science and conservation.
For more information about Plants Galore & More, call Joan Kaplan at (561) 628-4752, e-mail admiral29@aol.com or visit www.wellingtongardenclub.org.
ABOVE: Wellington Garden Club Recording Secretary Maria Wolfe, President Kathy Siena and former President Twig Morris with Wellington Village Council members.