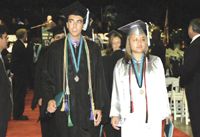 The nearly 470 members of Royal Palm Beach High School's Class of 2012 celebrated the end of their high school careers Monday morning at graduation exercises held at the South Florida Fairgrounds.
Newly appointed Palm Beach County Schools Superintendent E. Wayne Gent was on hand to give his first commencement speech.
"How do you define yourself?" he asked. "Not how your parents see you, not how your friends see you, but who are you really inside, one on one? It is very important that if you're going to give this country and this society the best you have to offer, you need to know what you stand for and who you really are."
Gent advised that the new graduates start out with a purpose, a goal and a target, and develop a life that will change society, others and themselves in a positive way.
"That may be hard to do because the net influences are both positive and negative," he said. "Negative influences will rob you of genuine and true happiness, but a clear mental image of who you really are will help you make the right decisions. The decisions you make the next five to 10 years, you will spend the rest of your life managing those decisions."
He urged graduates to be persistent as they strive for success. "We all stub our toes, but don't worry about making mistakes," Gent said. "If you worry about making a mistake, you've already made one. Failing won't hurt your health, but feeling like a failure could. The NBA's most valuable player, LeBron James, misses 50 percent of the shots he takes."
Salutatorian Ashley Estaris, who will be attending the University of South Florida in the fall and majoring in medicine, told classmates they are starting a new chapter in their lives.
"We will become college students, military personnel, actors, musicians, athletes, doctors, teachers, engineers, politicians and more," Estaris said. "The possibilities are endless, but it takes courage to grow up and turn out to be who you really are. Whatever path you choose, never forget where you came from. Remember your accomplishments in high school."
She said there will never be a class like the high-achieving Class of 2012. "Some have had the privilege of bringing recognition to our school," Estaris said. "This shows we have the ability to believe in ourselves and be what we set out to be."
Valedictorian Genevieve Banaag, who will attend the University of Florida in the fall and plans to major in biology, said that, looking back over the past four years, she considers the Class of 2012 to be survivors.
"Remember the year we had eight periods?" she asked. "All the times you had to get pulled out of class to participate in FCAT crash courses and CPT testing? And the desperate times you had nothing else to eat but cafeteria food, and it ended up tasting not all that bad?"
Despite the inconveniences, they were able to get through it all, Banaag said. "Look where we are, graduation, one of the greatest keys to adulthood, where one chapter ends and a new one begins," she said.
Principal Jesus Armas, giving his second commencement speech as principal, said he, too, has learned a great deal during his time at RPBHS. "You learn much from year one to year two," Armas said. "First off, I learned that I can eliminate 75 percent of student complaints by just letting you wear jeans."
Armas said he learned that when the community calls for help in events such as the Relay for Life, hundreds of Royal Palm Beach High School students come out.
"Last year, I was proud to be principal because it was a position that I aspired to hold," he said. "I wanted to be principal of Royal Palm Beach High School. It was a career goal."
Last year, he was proud because he thought that the school had a great staff and student body, and proud because he had hoped that the community at Royal Palm Beach High School could come together as one.
"My pride for this school and you graduates is no longer based on goals, hopes or suppositions," he said. "My pride is based on what I have learned about this great school. I'm proud of this wonderful faculty and staff."
He said he is also proud of the community and what the school represents in it.
"I'm proud that Royal Palm Beach High School is once again becoming a beacon for this community," Armas said. "I'm proud of the aid of our elementary and middle school principals, our resident school board member and our mayor, who believe in our school vision so much so that they are here today to stand together as a community and to celebrate this great occasion. Most importantly, graduates, I'm proud of you as a whole and of you as individuals. I'm proud of the talented groups and students that we have on this campus."