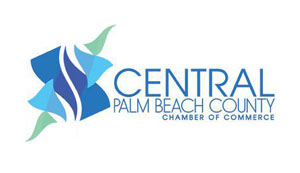 Managers from municipalities represented by the Central Palm Beach County Chamber of Commerce gave their annual "State of the City" reports at a luncheon Monday at the Wanderers Club in Wellington.
Royal Palm Beach Village Manager Ray Liggins said economic constraints have been a blessing of sorts, forcing his village to do more with less.
"Our revenues are down since 2006 by about $4.5 million," Liggins said, noting that assessed values have dropped by $1 billion, yet the village continued to drop its tax rate from 2.6 mills to 1.9. "Property owners are paying $2.5 million less in property taxes than they were in 2006."
The village's approach over the past decade has been "pay as you go," he said. "All of our parks were rebuilt with cash on hand," he said. "The latest project we're doing [Commons Park], we did get a loan for, and we've had some stimulus money to do some road projects."
But, Liggins said, the revenue loss "forced us to eliminate positions, utilize contract labor and reorganize almost every department within the village," he said. "It has made us more efficient."
In 2006, Royal Palm Beach sold its water utility to Palm Beach County. Liggins said RPB's tax rate ranks 26th among the 38 cities because it is supplemented with investment income from the sale of the utility. "The only cities that are lower than that either don't provide a full range of municipal services or have a significantly higher residential value," he said.
Liggins said the positive news in the real estate market is that the prices that sellers are getting for their homes are up. "Clearly there is a change in what's going on," he said. "We're still looking at about a 1 percent drop in collections on ad valorem taxes, but we are looking at an increase in our other revenue sources," he said.
Although the village has cut back or postponed most capital projects, the significant exception is the 160-acre Commons Park, scheduled to open later this year.
Wellington Village Manager Paul Schofield said that governments, like residents, have to learn to live within their means.
"Governments that learn how to do that are in generally good condition," Schofield said. "Governments that don't will continue to be in trouble for years to come… For the fifth year in a row, we're going to present to our council a budget that reduces spending."
One of the signs that the economy is improving is that the reduction will be less this coming year than it was last year, Schofield said. This fall the council will be presented with a budget that's about $2 million less than last year's, down $46 million from when he became village manager in 2008. "In rough terms, that's 40 percent of our budget," he said.
To cope, Wellington has changed its service model. "We have put significantly more money into maintenance and less money into general government," Schofield said. "Where Wellington spends its money these days is on capital maintenance and on projects that improve property values."
Wellington has been investing in things that keep up the value of businesses and homes, he said. Some highlights include the new Wellington Amphitheater. "We are just now surpassing 50,000 people who have attended that," he said. "For a program that didn't exist a year ago, we're pretty happy about that."
The village just finished a $23 million expansion of its wastewater treatment plant. "You've got to have that because I promise you, the one thing that people in this room would not tolerate is toilets not flushing," Schofield said.
The project included a sludge-drying facility that will enable the village to sell its sludge rather than pay to have it hauled away. "What that sludge-drying facility represents is a new thinking in government," he said. "Last year we spent about $200,000 to have sludge hauled away. With the drying facility, we don't have to pay to have it taken away anymore. It's actually sold and will generate about $50,000 in income, so that's about a quarter-million-dollar shift in spending."
The village's expanded volunteerism program has also saved the village about $160,000 annually, with 219 volunteers who contributed more than 10,000 hours. "If you walk into almost any facility now, you will find volunteers," Schofield said.
Loxahatchee Groves Town Manager Mark Kutney said that his 3,180-resident town prides itself on operating in a "government light" fashion, which includes no full- or part-time employees, and only contract employees, including the management firm, Underwood Management Services Group, which hired Kutney.
"We actually perform the functions of general town management, town clerk, planning and zoning, and all of the financial administration," he said, adding that most services are provided on a cost-recovery basis and code enforcement is handled on a complaint-only basis.
The town is very concerned about maintaining its rural character, which includes environmental preservation and protection, minimal government intervention and control of its own destiny, Kutney said.
As for the future, the town is working with Palm Beach State College to locate a fifth campus and commercial property on almost 100 acres of land at the corner of B Road and Southern Blvd., and a commercial development on almost 100 acres on an adjacent parcel. The town is also looking to undertake its first capital improvement plan since it incorporated, recently allotting about $1 million to go for those projects.
Indian Trail Improvement District President Michelle Damone said her limited-powers special district has an $11.9 million budget and represents more than 39,000 people in The Acreage. Accomplishments this past year include the opening of the new Acreage library, which was accomplished through a county land swap.
"It was a decade in the making; the taxpayers voted for that project, county commissioners worked with Indian Trail supervisors, and we built a beautiful library," Damone said. "It has opened, it is state-of-the-art, the only green building like it in all of Palm Beach County, so I'm very proud of that."
The district is also significantly closer to building a community center, she said. "There's a budget in place for it, and we are in the planning process for it right now," she said. "That would include [up to] a 19,000-square-foot building with a gymnasium, five classrooms, an indoor-outdoor amphitheater, and we are going to have a concession stand that is also indoor-outdoor."
The district has also made significant telemetry and stormwater upgrades.
"Something I'm very proud of, our district received an unqualified audit with no management comments whatsoever, and if you have followed the history of the Indian Trail Improvement District, that is an absolute accomplishment," she said.
Damone thanked the chamber and other municipalities that participated in supporting the State Road 7 extension, which received a good turnout at its final hearing in March.
"The western communities showed up in the strongest force ever against the City of West Palm Beach, so that we make sure that State Road 7 connects to Northlake," she said.
Other speakers included Palm Springs Director of Leisure Services Bill Golson, Greenacres City Manager Wadie Atallah and Lake Worth City Manager Michael Bornstein.