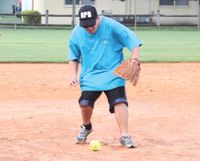 Named for the challenges faced by its players, the Challenger League offers a chance for players with physical and mental disabilities to play softball in an organized environment.
Every Friday night during its season, a crowd cheers as every player runs the bases and turns in a home run. There are no losers in this league. Everyone wins, Commissioner Larry Weld said. "Everybody gets to bat three times," he said. "Everybody gets on base. Everybody comes home, everybody wins and everybody has fun."
Players range from ages 3 to 64, and each one of them has his or her own unique challenge.
"It doesn't matter what your affliction is," Weld said. "We're glad to see you. The league is for players of all ages and all abilities."
The volunteer-run league was started by Royal Palm Beach Parks & Recreation Director Lou Recchio to give children with disabilities an opportunity to play on a softball team. At the time, Weld was asked to umpire, beginning his dedication to the league, which he now runs.
About seven years ago, Weld asked the Asphalt Angels, a local car club, to step in as sponsors. "I'd come out here and watch these kids share one bat," he said. "I said, 'This is totally wrong.'"
After just one evening watching the children enjoying themselves at a game, the club voted unanimously to sponsor the league, and has been providing the children with uniforms and new equipment ever since.
"They deserve to have what every other kid out there has," Weld said.
The focus is on fun, success and positivity rather than batting averages, wins and losses.
"The greatest thing about this league is that the kids are always smiling," said Art Lieberman, whose son Billy has played in the league for more than five years. "They're happy to be here. They're on a real team. It doesn't matter what they do as long as they get out there and have fun. This shows them that they can have what everyone else has."
For many of the players, the league is an opportunity to get out and socialize.
"[Billy] looks forward to it every week," Lieberman said. "He says, 'Daddy, we've got to go. We've got to get to the field. We've got to play baseball.' He's made friends with a lot of the kids."
For others, it has been a life-altering experience. "We had one kid who was bedridden," Weld said. "We got him out to a game in a walker, and by the end of the season he wasn't even using that. That made the last 12 years worth it."
Weld said that he is hoping to recruit more players for next year's season. "I want to see 50 or 60 kids out here," he said. "I want to get a PA system and more sponsors than ever before. There's so many kids that, I'm sure, are sitting home."
He said that new players become fast friends within the league.
"There are no loners," he said. "The kids are so friendly that if you go off by yourself, they'll come over and get you. The beautiful thing about these kids is they don't know anything about hate or prejudice. We should watch the way they live and learn from that, because it's such a wonderful thing."
Awards for this season will be given out Friday, June 1 during the Asphalt Angels' Cruise-In at the Wellington Marketplace.
The 2013 season begins again next February, and Weld said he hopes to see tons of new faces on the field. "It's contagious," Weld said. "You don't see this amount of pure fun. It just does your heart good to watch them."
For more information about the league, or to sponsor a team, call Weld at (561) 723-5986.