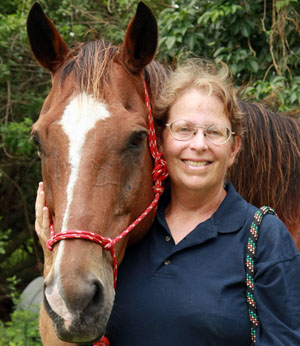 TAILS FROM THE TRAILS
Life changes in the blink of an eye. It's something we all know, somewhere in the back of our mind, but something we don't consciously think about or always consider. Until, one day, fate catches up. Such was the case with Andrea Lea Tanner of Wellington.
"I was an FEI Level IV ranked rider," Tanner recalled. "I've been riding since I was a baby. I did Pony Club, then classical dressage, taught by an instructor controlling your horse on a lunge line. I found it frustrating, but I learned a lot."
Growing up in horse country, her love of riding grew. "My family moved to Fairfax, Va., beautiful big horse country. Then we moved to Orlando, and finally Wellington in 1988. I was in middle school," she said. "I started competing in dressage at 15, then took and passed the Young Riders test at 16. I started riding in Grand Prix classes. I figured I had plenty of time to learn more, improve and move up."
She also had her pick of horses.
"We had five or six horses, mostly jumpers. I love jumping. It feels like a plane taking off, but much better, but I never competed in jumpers, only dressage," Tanner said. "I'm a total perfectionist, and dressage was a sport I had to work at in order to be perfect, which is what I loved."
So that was Tanner's life, fairly normal, as far as riding in Wellington goes — horses, shows, the usual. And then, one day, nothing was usual. Nothing at all. Dec. 6, 1999. She was almost 20 years old and thought she had all the time in the world.
"A friend down in Boynton Beach called me up and asked me to hack a horse out on the trail for him," Tanner said. "She was a beautiful chestnut Thoroughbred mare, and I'd never ridden her before. He had two horses. He rode one, and I rode Scarlet, the mare. She was quite green, but I didn't know that. She'd never been out on a trail before."
Looking back, there were some red flags. "She did seem antsy. I asked if he had a lunge line, so I could lunge her a bit before mounting and let her work off some of that excess energy, but he didn't have a lunge line," Tanner recalled. "I asked if there was an empty paddock where I could turn her out and let her run, but there wasn't a spare paddock, either. Besides, he told me, she's not a hot horse. So we mounted up, and off we went."
They were about two miles from the stable when Scarlet started acting agitated. "Then a dog barked and set her off, running at a full-out gallop. We were in a wooded area, but she deviated into a residential neighborhood, still running at speed," Tanner said. "I grabbed her mane and tried turning her in a circle to regain control. She bucked me off. I hit the ground at a high velocity, but somehow my boot got stuck in the stirrup. She dragged me a quarter of a mile down the dirt road before my boot finally got untangled. My back was all bloody. My body felt numb but tingly at the same time, like when your foot falls asleep. I couldn't move. I didn't understand what had happened."
Tanner hadn't been wearing a helmet. Between the fall and getting dragged, she'd been severely injured; she'd fractured her neck between the C-6 and C-7 vertebrae. She was paralyzed.
"I couldn't talk. I didn't know it was because my diaphragm had become partly paralyzed, making it hard just to breathe. I remember seeing fire ants on my left shoulder," she said. "I was being bitten by the ants, but I couldn't brush them off. I couldn't do anything. I was in shock."
Tanner was airlifted to the Delray Medical Center. She stayed there, in rehab, for five and a half months. The results: She can wiggle her toes, curl her fingers, and she can use her left thumb. She doesn't have full use of her arms. She can't walk. She's hoping to improve her core strength enough to be able to start therapeutic riding at the Vinceremos Therapeutic Riding Center in Loxahatchee Groves this summer, and maybe, eventually, compete in para-equestrian classes. In the meantime, she's trying to start a business.
"I'm hoping to run a small horse brokerage firm," Tanner said. "I'd like to bring together some good riders and top-line imported dressage, jumping and/or endurance sport horses in the $85,000 to $150,000 range. Right now I'm actively seeking sponsorship to help me build up a listing of horses, trainers, riders and breeders. My goal will be to connect my clients with just the right horses. I want to do a really good job and find some perfect matches. I'm very good with people, and I really know horses. I just need a little help getting this new business up and running."
Visit www.andreatannerdressage.com or www.facebook.com/WCDHElite for more information. Anyone interested in helping Tanner start her new venture can call her at (305) 213-3684.