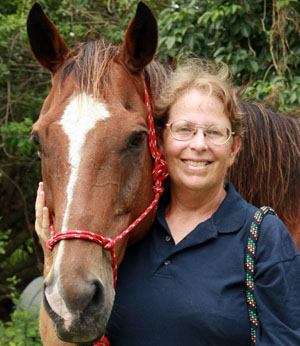 TAILS FROM THE TRAILS
I wonder if you miss reading my articles as much as I enjoyed writing them. For many years, I felt as if I was our local equine historian, chronicling Palm Beach County's horse community.
Sure, I covered some of the bigger horse shows, interviewed world-famous riders and trainers, but my favorite stories always involved local people. Backyard horse owners, farriers and horse dentists. Carriage drivers, barrel racers, 4-H clubs and loving owners. Show venues and barns long gone now. Small groups and organizations who strove to improve life for horses in general. What they call progress.
Other things change as well.
Last year, I was diagnosed with stage-four metastatic breast cancer, giving me a new perspective on life. My philosophy boiled down to two thoughts. First, find something beautiful to enjoy each day. Second, you can't control what happens to you, only how you respond to it.
I see no point in waging an aggressive campaign against the inevitable; that would only waste time and resources. I have no idea what happens after this life ends. I guess that's the next great adventure. Death is the natural last experience shared by all.
I've truly loved writing about our horse community and getting to know so many of you. I feel privileged to have been given that opportunity. It has been fun.