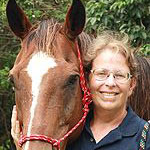 TAILS FROM THE TRAILS
Anthony Barbuto of Wellington didn't start out to be an equine attorney; it just kinda happened.
"I have no horse background," he explained. "I didn't choose it; it chose me."
It began when he started practicing with attorney Ann Porath in September 2008. "She was the first full-time lawyer in Wellington and had a general practice doing wills, trusts, probates, a lot of divorces," he recalled. "Little by little, I started seeing more and more equine clients with horse-related issues. I learned along the way."
The one biggest issue is horse buyers claiming that a seller has misrepresented a horse. "This is a very common issue. I've done collections for veterinarians. Another frequent complaint involves personal injury from a horse- or riding-related incident," Barbuto said. "Then there are liens placed against a horse for nonpayment of boarding bills. This happens more times than you'd think, even with very wealthy clients. They may be living a high lifestyle and be in way over their heads. When I start investigating, I find they've done this more than a few times and owe other establishments as well, kind of serial barn-jumpers."
Barbuto advises clients to examine the details of their situation and do a cost-benefit analysis before starting a case. For example, if the amount owed is only $500, contacting the person may cost more than what you're hoping to recoup. Small claims court may be the best way to go for a case where the contested amount is less than $5,000. It's very informal, and most claimants don't have lawyers or any legal background.
"One important thing a horse owner should know is what a horse is capable of doing," Barbuto explained. "For example, if a horse has an injury which hasn't fully healed, and someone rides that horse, gets bucked off and becomes injured, the owner may be liable because he should have known better than to allow someone to ride it. The owner has an obligation to determine that the horse is sound and will not act dangerously or in an unsafe manner."
According to Barbuto, stables should always have a written contract for their own protection, spelling out all of the details, including specifically what happens if a boarding bill isn't paid. "For example, let's say a client removes his horse on the fourth day of the month without prior notice," he said. "The contract should state how much he owes, either for the rest of the month or a per diem pro-rated charge. Other situations which should be spelled out include any riding restrictions as to days, times or areas, and rules governing the use of outside trainers. Having all the details spelled out beforehand means everyone's on the same page and can avoid misunderstandings."
Trainers should also carry their own liability insurance. "They can be held liable if, for example, they direct a student to do something dangerous, beyond the scope of either the horse or the rider, or if they ignore a vet's warning that a horse isn't fully healed and tell the rider to go ahead anyway," Barbuto said.
As he noted earlier, misrepresentation is a big issue. "The most common type of equine case I handle is a buyer claiming the seller has misrepresented a horse, either through undisclosed medical problems or other difficulties," he said. "For example, let's say someone buys a jumper who's supposedly an excellent show horse, and now the horse stops at every jump. Upon investigation, we may find that the horse has a history of stopping, and the buyer was misled. Or a horse had an injury which was masked, and soon after comes up lame. Pre-purchase exams are really important and should include some blood screening for drugs and X-rays."
Barbuto advises, when buying a horse, to make sure you're really satisfied with its looks and movement before purchase. Ride it as much as possible in a variety of settings and situations. Try showing up to ride unannounced, he suggested.
Erica Kahn owns Acorn Creek Farms in Wellington, a hunter/jumper boarding and breeding facility. "We used Anthony to help us set up our corporation," Kahn said. "He was very efficient and professional, and made the whole process easy and simple. I would definitely recommend him."
Gene Fruehling also used Barbuto's services. He and his daughter Becky run a training and boarding business in Palm Beach Point East.
"It turns out there are all kinds of things you have to know about," he said. "Horses do all sorts of things. You need liability releases for riding, board contracts, sales contracts. And they can't be too lawyer-y, too scary that people are afraid to sign them, or too dense that no one understands what the heck they're signing. They should be comprehensive and comprehendible. Anthony did a great job."
Barbuto also does a lot of agricultural exemptions for farms, which can lead to big tax savings.
Even non-horse people can become entangled in legal equine issues. Because this is an area with extensive equine activity, people ride horses along roads. Horses can spook, rear or bolt suddenly into a vehicle's path.
"Drivers should always pass horses with caution and be conscious of what it means to drive in an equine area," Barbuto said. "It's more serious than people realize. Horses and riders can be severely injured or killed by a negligent or inattentive driver."
The one overarching piece of advice Barbuto has for people dealing with horses is to be safe, think ahead and be prepared for any contingencies. Follow the rules, and make sure everything is spelled out ahead of time.
For more information, call Barbuto at (561) 798-2907 or visit www.barbutolaw.com.