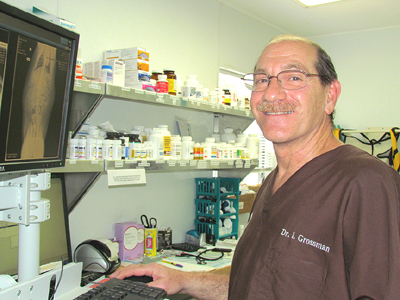 Due to the increasing demand for a 24-hour veterinary hospital in the western communities, Palms West Veterinary Hospital has stepped up to answer that call, now offering around-the-clock veterinary care.
"Our clients have been asking for years," said owner Dr. Ira Grossman, shown above examining an X-ray. "Now we have answered their needs."
The veterinary hospital is the first in the western communities to be offering emergency veterinary care seven days a week, 24 hours a day.
VIDEO: Palms West Veterinary Hospital
The facility has been offering on-call, 24-hour care for more than a year. Because this has been a great success, Palms West Veterinary Hospital had been working to offer the same service at the facility. "We have been thinking about it for a year already," Business Manager Steven Good said. "There has been a tremendous call for it in the community and among our 3,000 steady clients."
The facility has hired two experienced emergency physicians and will begin serving the western communities as the only 24-hour emergency veterinary hospital on Friday, June 15.
"The closest emergency room is 25 minutes away right now," Good said. "So we are looking to bring a hospital to the western communities where they are only five to 10 minutes away."
The hospital will treat all animal emergencies, with a critical-care staff on hand. "Once people come in, they will have a critical-care staff right here for them instantly, ready to save lives," Good said.
Palms West Veterinary Hospital is hoping to work with other veterinarians and clinics in the area that are not open 24-hours, to send their emergencies to them. "This will be beneficial to their clients who have to drive 25 to 30 minutes out on Northlake or east on Forest Hill Blvd. to the nearest hospital," Good said.
The veterinary hospital will offer all comprehensive emergency care from X-rays to surgical procedures. "We are going to be able to stabilize and take care of critical-care patients overnight, then refer them back to their primary veterinarians," Grossman said.
Grossman wants to gain a working relationship with local veterinarians. "We want them to refer patients to us and be confident sending patients here, knowing that we are not going to be stealing their patients, and that we are just going to be doing what we have to do in an emergency, then refer them back to their original doctors when they are open," he said.
Grossman and his staff are hoping to save the lives of many animals in the community. "Many patients die on the way to the vet because it's too far," he said. "Now that we are 24 hours, we can stabilize then and get everybody taken care of."
During its regular hours, Palms West Veterinary Hospital will be open to its regularly scheduled patients, offering the same services, procedures and medicine for small animals. The hospital will also continue offering low-cost physical exams and keep bills low by avoiding unnecessary treatments.
Some of its services include tumor removals, spays, neuters, dental care, flea and tick treatments, vaccinations, X-rays, blood tests, physical exams, heartworm treatment and prevention, declawing and nail trimming. Grossman has been a veterinarian for more than 31 years, having received a degree in veterinary medicine from the Tuskegee Institute in Alabama, followed by an internship at the Animal Medical Center of New York in Manhattan.
Palms West Veterinary Hospital is located at 556 Folsom Road, near the intersection with Crestwood Blvd., in Loxahatchee Groves. For more information, call (561) 798-2780 or visit www.palmswestveterinary.com.