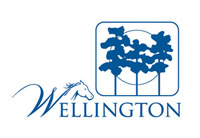 BY CHRIS FELKER
Wellington showed off its efforts to become a more environmentally conscious and economical government as part of the "100 Cities Summit" during the fourth annual Florida Green, Energy & Climate Conference/Expo last month at the Palm Beach County Convention Center.
Tom Amburgey, Wellington's chief information officer, led a presentation on "Information Technology Solutions for Greening Your City," followed by a more detailed talk about the tools that Wellington staff members are using.
Wellington has contracted with Avolve Software to enable the transition. Cindy Bernstein, director of government sales for the firm, detailed how the tools work for the many municipal officials and government service vendors attending the expo.
Amburgey showed a short video giving an overview of the village's efforts, citing Wellington's certification as a "gold-certified green local government" under the Leadership in Energy and Environmental Design (LEED) program of the U.S. Green Building Council. Amburgey said the new municipal complex is the centerpiece of Wellington's efforts.
He also noted proudly that Wellington is a recognized "Tree City USA," an honor bestowed by the Arbor Day Foundation. "We really put a lot of effort into being green, doing the things that are right for a sustainable future," Amburgey said.
He noted that Wellington gives incentives through its planning and permitting processes for property owners who build or improve property according to LEED specifications.
"Green technology is what we're doing," Amburgey said, adding that with every project, staff evaluates things such as, "What does it do to reduce the carbon footprint; how does it reduce paper use; how does it help to create green buildings; and, most importantly, how does it facilitate lifestyle change? We try to look at how to cut our impact on the environment in anything we undertake."
He ran through a list of projects implemented to "help make Wellington a green city and a green operation."
One is organized storage. "We have a system that generates the reports electronically," Amburgey said. "It's a document management program… It makes it easy for people to find stuff, without paper."
Another is making staff aware how much information they print on paper unnecessarily. Wellington now uses a system requiring each user to scan a security card to print something, and a report is produced monthly that enables officials to ask, "Did you really need to print those thousand pages?"
Amburgey said that Wellington provides its staff with "strong electronic systems, very good e-mail systems so they don't need to print; dual desktop monitors so they can work on multiple pages rather than refer to printed materials. We give them all the monitor space they need."
He said the village operates with a "unified communications system" that includes the capability for videoconferencing, teleconferencing, whiteboards and more. "We have the ability to do videoconferencing from any of our six locations where people work," Amburgey said, noting that alone cuts down dramatically on staff's driving and paper use.
So does a community-wide wireless system used by the utility operation.
"That lets us reduce our carbon emissions," Amburgey said, "because we read 21,000 water meters every month… We now do that by pushing a button and it's read automatically rather than have three trucks driving the whole city to read water meters."
The system also gives staff the ability to track lift stations and other utility operations as well.
"With videoconferencing, our guys in the field can pull over and do a video chat, take a picture, send it back, do whatever they need to do through the Wi-Fi system."
Wellington is also using "cloud computing," which means that information the village must store is being saved remotely, so no costs are incurred to house and maintain computer servers.
Amburgey listed numerous energy-saving features of the new municipal building, including automated power and water usage control systems and all Energy Star-certified equipment and appliances.
"Everything is low-power; we use battery backup and energy-saving features. Our PCs lock after 15 minutes of inactivity to reduce power usage, and the monitors shut off automatically every night," he said.
Many mobile computing applications are in use, he said, because "an iPad uses a lot less energy than a PC does, and I can do 98 percent of what I need to do on an iPad," Amburgey said. "Sixty-five percent of our employees fall into that category."
He noted that the village's e-services, such as the ability to make online utility payments, cuts down on residents' energy usage. He noted that about 12,000 to 15,000 residents per month take advantage of that.
Amburgey added that a lot of Wellington's permitting now can be processed online.
"We're doing about 65 percent of our permits electronically now," he said.
Amburgey credited advanced computer programs as the No. 1 reason behind "green" cost savings.
Avolve Software's Bernstein then gave a detailed presentation, noting that 25 municipal jurisdictions statewide now are using Avolve's "ePlan" technology and running through the many benefits that those governments, including Wellington, are reaping.