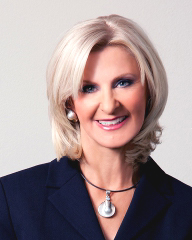 Palm Beach County Clerk & Comptroller Sharon Bock is finishing up her second term in office but has worked for the clerk's office since 1998. In her bid for a third term, Bock is being challenged by foreclosure activist Lisa Epstein.
The election will take place Tuesday, Aug. 14 in an open primary election. Both Bock and Epstein are Democrats, and since no one else filed to run, the winner of the primary will claim a four-year term running the county's court system, public records and financial oversight office.
Bock, who has a master's degree in business administration and a law degree, ran several businesses until she took a job as deputy clerk under then-Palm Beach County Clerk Dorothy Wilken. She joined as chief deputy for court services and was promoted to chief deputy clerk in 2003. She kept that post until she was sworn into her elected position.
"It's hard to believe that I'm in my 14th year," Bock told the Town-Crier this week. "I was the first person hired to run the court system who was an attorney, and I told [Wilken] I would work for her only a couple of years… It ended up that I just really enjoy government. I enjoy the complexities of it."
Bock was Wilken's choice as successor in 2004. She won re-election handily in 2008.
Bock started her career as a schoolteacher before earning her MBA and starting a business career. At age 29, she attended law school and then practiced law for 11 years. Along the way, she also secured her securities license.
"All of those disciplines really aligned for the job I have right now, because, obviously as clerk of the circuit court, my main customers are the judges and the lawyers, so, having a legal background really allows me to fully understand their problems," she said.
Her background as a real-estate lawyer for 11 years gives her insight to the land records as the official registrar. "I not only understand the land records, but I have a deep background in that area and can do my own abstracts and title searches," she said.
Her background also comes in handy managing the county checkbook, she said. "While we're not using that money, it's being invested for the taxpayers," Bock said.
Bock added that her business background gives her the administrative and managerial skills to run the 750-person office, and the complexities of the job leave little room for a learning curve.
Bock explained that she feels fortunate to have worked under Wilken before she was elected. "There is no on-the-job training," she said. "You need a tutor for a job like this."
Bock has been criticized for withholding payments from municipalities to the Office of the Inspector General until a lawsuit leveled by 14 municipalities is resolved, but she regards that as fulfilling a responsibility of her office to make no unlawful payment.
Unlike the state and federal governments, the Palm Beach County Commission holds both executive and legislative power, she said. "That means they have not only the ability to tax and set the millage rate, but then to set the budget," Bock said.
In order to control spending, state statutes give the clerk's office control over money flowing through the county. "One hundred percent of it comes through my office," she said. "If I ever expend funds that should not be expended, I am personally liable."
Whenever she approves a payment, Bock said she has to ask whether the money is in the budget and the payment serves a public purpose and is lawful. "I stop unlawful payments every single day," she said. "In this case, what happens in the [Office of the Inspector General] case of the municipalities is that the minute the municipalities alleged that the funds that they had paid were ill-gotten, or were unlawful, that then set me up to withhold the money. That money is still there. We're holding it in escrow."
Unless the two parties in the lawsuit settle, one party will win, she said, explaining that if the municipalities were to prevail, that would mean that her office had made unlawful payment if it releases the contested money, Bock said.
Nevertheless, Bock said that she tried to get around the issue. She said she asked the municipalities if they would not hold her responsible for the payments. "Not one municipality was willing to indemnify me," Bock said, adding that county officials also refused to indemnify her and guarantee they would pay back the money if the cities won. "So I could not release the public's money."
Bock said she faces other challenges in the form of the state cutting her budget by 25 percent over the past three years, which has resulted in her having to trim her staff, including the recent closing of the mid-county branch in Royal Palm Beach.
"It is outrageous, and we saw about 1,000 people a month out there in mid-county," she said. "That means about 1,000 people will have to drive into either Belle Glade or here to make the payment."
She said it is especially frustrating because her budget of about $29 million annually, which includes the cost of running five courthouses, is only a small percentage of what the 15th Judicial Circuit takes in.
"Every time you come in you're paying a user fee," Bock said. "The clerk's office in Palm Beach County, which is the 15th Judicial Circuit, sends up to Tallahassee about $250 million a year, and when it gets up there, they throw it in a pot, and our county becomes a donor county."
As a result of the most recent cuts, amounting to a further 7 percent, Bock said she had to freeze 15 positions. Monday marked the shortening of operational hours for the offices still open from 8 a.m. to 5 p.m., to 9 a.m. to 4 p.m. "I can't even tell you the lines that formed because people didn't know that we weren't open, although we highly publicized it," she said.
Recently divorced, Bock, 59, lives in Palm Beach Shores.