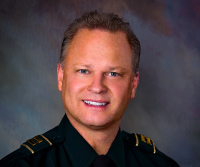 Property crime in Wellington is down, but vehicle collisions continue to be a problem, Palm Beach County Sheriff's Office District 8 Capt. Jay Hart told the Wellington Village Council at its meeting Tuesday, June 26.
In his report, Hart (shown above) said that between October 2011 and March 2012, deputies had accomplished several goals, including monitoring juveniles on probation in Wellington, preventing property crime and keeping public spaces safe.
But extra traffic on the roads during the first half of the year led to an increase in accidents, he said.
"Our goal is to reach a crash rate of 2.2 crashes or less per 100 village residents," Hart explained, noting that currently the rate is 2.5.
Hart noted that last year, there was a similar spike during the first half of the fiscal year.
"If you look at last year's numbers at this time, we were also at 2.5," he said. "We ended the year at 2.2. During January, February and March, we probably bring an extra 30,000 people into the village."
Though the influx of people is good for the local economy, Hart noted that it increases the chance of accidents. "When people leave for the season, the crash rate goes down," he said.
One area of concern is the Mall at Wellington Green. Hart said that more than 25 percent of Wellington traffic crashes occur in the vicinity of the mall, noting that there have been 68 crashes there so far.
However, those do not tend to be serious crashes resulting in major injuries. "The majority of these crashes are backing accidents," Hart said. "They're not head-on collisions."
Hart said he'd like to work with Wellington to create a public service announcement. "We want something that will help people, so that when they get into parking lots, they remember to slow down and pay attention," he said.
Vice Mayor Howard Coates pointed out that it seemed as though there had been more vehicle deaths recently. "That's certainly my perception reading the news reports," he said.
Hart agreed. "There has definitely been an increase here in Wellington," he said. "This year we've had some tragic accidents."
Coates asked whether there were any patterns or recurring themes in the crashes. Hart said that there hadn't been final reports issued on any of the cases but noted that speed and careless driving are factors.
Texting and driving is another huge, growing concern, he noted.
"We can't write someone a ticket for [texting]," Hart said. "It's a huge problem. It seems like every third car has someone texting in it. We can't stop that. Until the state does something about driving and texting, we can't do anything."
In general, Hart said that deputies are conducting fewer stops and not writing as many tickets because more residents are in compliance.
"We have had the entire motor unit from the sheriff's office come out here on patrol and do productive speed monitoring," he said. "At the end of the day, they say that there's nothing out here. They walk away with very few tickets. We're not saying that everyone is in compliance, but because most of our deputies have radars, they are on top of it. They are writing people tickets every day."
Hart said that deputies issued 2,873 tickets in the first half of the year, which is down from years past. "With these economic times, we don't feel right writing $600 tickets to get our point across," he said. "But if we have to, we will do that."
Hart said that deputies had been successful in curbing juvenile arrests with the PBSO's Juvenile Arrest Monitoring program.
"We want to make sure that juveniles on probation in Wellington comply with the conditions of probation," he said.
Juveniles on probation must attend school, obey a curfew, obey their parents and remain drug-free. Hart noted that there were 20 juvenile arrests for violation of probation.
"If your curfew is at 6 p.m. and [a deputy] comes knocking on your door at 6:15 and you're not home, then he's coming back with a warrant and he's going to take you to jail," Hart said. "We did that 20 times with 20 different individuals. As a result of that, we had a decline in juvenile arrests of 14 percent."
Although not all juvenile crime could be attributed to those 20 juveniles, having a presence in the community has helped.
"As long as we maintain our presence and keep knocking on their doors, they're going to know we are there," Hart said. "The goal is that they finish this program successfully so they can become productive citizens. If they don't, we are there to pick them up."
Deputies have also been successful in curbing property crime, Hart said.
"Our goal is to have less than 1,000 property crimes for the year," he said. "After six months we're at 404. So we're on track to reach our goal."
Hart noted that deputies have made 33 burglary arrests and eight vandalism arrests. Also, vehicle burglaries are down by 24 percent compared with the average rate.
Hart said that his office looked at the averages for vehicle burglaries in the first half of the year during the past five years, and determined that Wellington remains far below average.
There was also a 13 percent decline in vandalism, and overall property crime is 17 percent below average. "We feel like we're making some headway," he said. "We have a heavy presence on the streets at night."
Another goal that Hart mentioned was public preservation. "It's basically reducing criminal mischief, burglary or trespassing within Wellington's parks," he said. "We all know Wellington has absolutely beautiful parks. You spend a lot of money to maintain those parks, so we've taken the challenge to make sure those parks stay beautiful."
He noted that deputies had done an average of 444 checks per month at local parks. In that time, they have made nine trespassing arrests and had 12 burglary and five vandalism cases.
"You can see that we are in there frequently," he said. "Because of our presence, we have made a huge impact."
District 8 also began doing criminal saturation patrols in an effort to curb crime and educate the public, Hart said. "We've done three criminal saturation patrols, where we put 25 deputies on the street at a given time on top of the 10 already patrolling," he explained.
Hart said that during that time, deputies gave out a number of tickets but also a number of warnings. "We do want to educate the public," he said.
Hart said that deputies would continue to work on reducing property crimes and robberies as well as boosting traffic safety.
"We had a spike in robberies," he said. "There have been a few arrests, but there is no trend as far as a certain area. It's sporadic, and we haven't seen a pattern at this point."